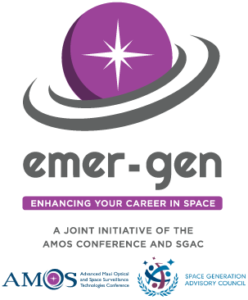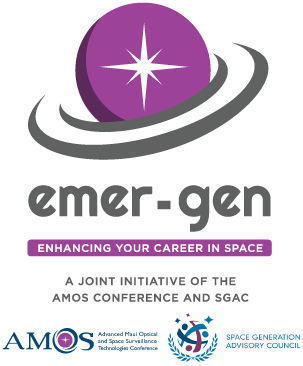 The AMOS Conference continues to grow and expand with the introduction of an EMER-GEN program designed especially for young professionals and students (35 and under) enthusiastic about careers in space.  Scheduled for September 9-11, 2018 to precede the 19th annual AMOS Conference, EMER-GEN is a joint initiative of the AMOS Conference and the Space Generation Advisory Council (SGAC).
With the help of advisors from industry, government, academia and NGOs, the program involves a two-day experience that offers:
Mentoring with renowned space specialists from the public sector (military and civil), private sector, and nongovernmental organizations
Networking with other young professionals
Short courses led by experts drawn from an array of fields related to space situational awareness
Professional Development sessions to enhance your effectiveness in a global environment
"We are pleased to launch this program for young professionals that builds on the capabilities and network of the AMOS Conference, " said Conference Director, Sandy Ryan of the Maui Economic Development Board. "Through the partnership with the SGAC, we look forward to extending our unique AMOS Aloha and to assisting with the aspirations of the upcoming space generation."
Aiming to strengthen the regional network of students and young professionals, the program is expected to attract up to 30 participants in its pilot year.  The mentoring and professional development sessions will guide discussion on key questions and challenges to space cooperation and enable tomorrow's leaders to meet and connect with today's leaders and professionals.
"SGAC is excited to partner with the Maui Economic Development Board to launch the EMER-GEN programme," said Clementine Decoopman, Executive Director of the SGAC. "We look forward to extending our network to and meeting with the next generation of space leaders gathering on Maui as well as hearing their perspectives on future space industry challenges."
EMER-GEN participants will take part in the AMOS Conference short courses on Tuesday which serve to upgrade or expand their technical job skills and remain abreast of recent developments in their respective fields of interest.  The young professionals and students will also be invited to attend the main AMOS Conference at a special rate.
The Advanced Maui Optical and Space Surveillance Technologies (AMOS) Conference, a program of the Maui Economic Development Board, will be held at the Wailea Beach Resort September 11-14.  It is the premier technical conference in the nation devoted to space surveillance. The cross section of military, contractor, and academic participation in the field of space situational awareness is unmatched by any other conference in the world, as evidenced by the continued growth in attendance, and the corresponding increase in technical excellence and collaboration.
The Space Generation Advisory Council is a global non-governmental, non-profit (US 501(c)3) organisation and network which aims to represent university students and young space professionals ages 18 to 35 to the United Nations, space agencies, industry, and academia. Headquartered in Vienna, Austria, the SGAC network of members, volunteers and alumni has grown to more than 13 000 members representing more than 150 countries.
For further details of the EMER-GEN program and registration, please go https://amostech.com/emer-gen.
Deadline to Register:  August 15