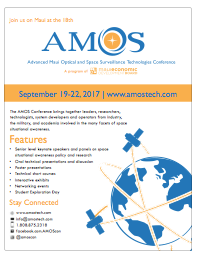 Maui Economic Development Board is pleased to announce the Call for Papers for the 18th annual Advanced Maui Optical and Space Surveillance Technologies (AMOS) Conference scheduled to take place September 19-22, 2017 at the Wailea Beach Resort Marriott in Maui, Hawaii.
The more than 100 technical papers offered as oral presentations or poster presentations are the core of the annual AMOS Conference. The rich array of presenters cover research and development ongoing in the many fields related to space situational awareness such as adaptive optics and imaging, orbital debris, astrodynamics, and non-resolved object characterization.
The AMOS Program Committee reviews all submissions from the annual Call for Papers and selects those that best meet the scientific and technical goals of the conference. Submissions are also encouraged from national and international undergraduate and graduate students.
Proposals for special sessions, such as panels and invited oral presentations are also considered.
Interested authors may submit an abstract not exceeding 300 words by April 1, 2017. Submitted abstracts must report new information and not previously published or presented at a national or international scientific meeting, unless there is a substantial update of data.
Papers will be selected on the basis of the submitted abstract. The abstract should clearly outline the paper's major elements of interest, its originality, and be non-marketing in scope. Papers not selected for oral presentation may be selected for display as poster papers.
All authors whose abstracts are selected are required to submit a technical paper and signed copyright agreement indicating that your presentation and manuscript have been cleared for public release.
Technical papers will published in the Conference Proceedings and website. No paper, no podium.
Deadlines:
April 1, 2017            Deadline for abstract submission
May 15, 2017          Notification of Acceptance
Sept 12, 2017          Deadline for paper submission
Sept 19-22, 2017     AMOS Conference
Please read full details and submit your abstract at
https://amostech.com/amos-speakers/
Call for Proposals: Short Courses
Proposals are also being solicited for full-day and half-day Short Courses to be presented at AMOS 2017. The short courses are intended to offer opportunities for participants to acquire an introductory knowledge on conference topics. Focus topics of broad interest from excellent instructors are encouraged. Short courses are solicited from all technical areas within SSA subject areas.