The 22nd Advanced Maui Optical and Space Surveillance Technologies (AMOS) Conference is days away from welcoming visitors to Maui with a program that includes recently appointed White House National Space Council Executive Secretary Chirag Parikh. Prior to his appointment, Parikh was Senior Director at Microsoft's Azure Space.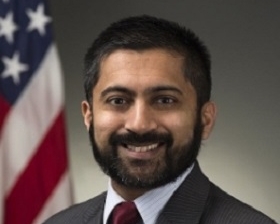 A former director of space policy at the National Security Council from 2010 to 2016, Parikh joined the National Geospatial-Intelligence Agency in 2016, serving positions such as deputy director for counterproliferation.
Parikh, who will present virtually, will kick off Day 3 of the AMOS Conference with a plenary program that includes Opening Keynote address, Major General DeAnna M. Burt; daily SSA Policy Forums, Featured presentations by Colonel Eric J. Felt & Colonel Joseph J. Roth; and by Dr. Kelly D. Hammett; as well as a special panel on Space Research Opportunities with the U.S. 
Presented by Maui Economic Development Board (MEDB), the AMOS Conference will be held September 14-17 at the Wailea Beach Resort. With the COVID-19 pandemic still restricting travel for many, especially international visitors, the program is hybrid with key speakers and sessions being livestreamed. All presentations will be available on a virtual platform either live or recorded.
"Thanks to the meticulous health and safety planning by our MEDB Conference Team and the Wailea Marriott, the Mayor has approved the AMOS Conference to move forward," said Leslie Wilkins, President & CEO of MEDB. "The health and well-being of participants is our highest priority while maintaining the important dialogue and networking opportunities the AMOS Conference is known for."
The conference is complying with all county and state guidelines on safety protocols including social distancing, limiting ballroom capacity to 50%, and mask wearing. All visitors to Hawaii will be required to comply with Hawaii Tourism Authority guidelines including pre-travel testing OR proof of vaccinations. As a further safety precaution for all attendees, Hawaii-based participants will also be asked to show either show a proof of vaccination OR a negative COVID test within 3 days of AMOS.
Those coming to Maui can expect to receive the same aloha the AMOS Conference is renowned for with its blend of formal discussions and informal social networking receptions, making use of outdoor settings.
Technical oral and poster presentations will cover topics of Astrodynamics; Atmospherics/Space Weather; CisLunar SSA; Conjunction/RPO; Dynamic Tasking; Machine Learning for SSA Applications; Non-Resolved Object Characterization; Optical Systems & Instrumentation; and Space Situational/Domain Awareness.
The Conference also includes technical short courses that run on Tuesday, September 14 with in-person and virtual options. Taught by highly regarded industry experts, the courses provide opportunities for working professionals to upgrade their technical job skills and remain abreast of recent developments in their respective fields of interest.
The AMOS Conference is the premier technical conference in the nation devoted to space domain awareness. The cross section of private sector, government, and academic participation helps foster important dialogue and international collaboration. The attendance at AMOS reflects a growing interest in space sustainability and space commerce initiatives as new actors—national governments, private sector companies, non-governmental entities, and universities—become involved in these activities.