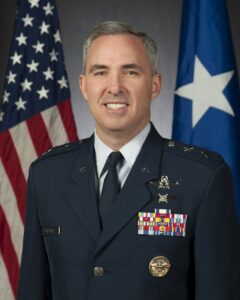 Major General Stephen Whiting will open the proceedings at the 19th Annual AMOS Conference as the Opening Keynote Speaker on Wednesday September 12.
Maj. Gen. Stephen N. Whiting is the Commander, 14th Air Force, Air Force Space Command; and Deputy Joint Force Space Component Commander, U.S. Strategic Command, Vandenberg Air Force Base, California.
As Commander, 14th Air Force, General Whiting leads more than 16,000 personnel responsible for providing strategic missile warning, nuclear command, control and communication, position, navigation and timing, space situational awareness, satellite operations, space launch and range operations. As Deputy JFSCC, he directs all assigned and attached USSTRATCOM space forces on behalf of the JFSCC, providing tailored, responsive and synchronized theater and global space effects in support of national security and combatant commander objectives. He is also responsible for protecting and defending critical U.S. and allied space capabilities.
General Whiting is a 1989 graduate of the U.S. Air Force Academy. He is a space operations officer, and has commanded the 13th Space Warning Squadron, Clear Air Force Station, Alaska; the 614th Air and Space Operations Center/Joint Space Operations Center, Vandenberg AFB and the 21st Space Wing, Peterson AFB, Colorado.
The general's staff assignments include positions at Headquarters, United States Air Force; United States Space Command; United States Strategic Command; the Chief of Naval Operations' Strategic Studies Group; the Office of the Deputy Secretary of Defense; and Headquarters, Air Force Space Command.
Maj. Gen. Whiting will present the opening Keynote as a lead-in to the first SSA Policy Forum of the Conference addressing the topic of Space Situational Awareness and Enhancing Security and Deterrence.
The SSA Policy Forum, coordinated in collaboration with Secure World Foundation, explores international issues related to Space Situational Awareness in a panel format. Held at the start of each day of the 3-day AMOS Conference, Wednesday to Friday, the sessions are preceded by a relevant keynote presented by an invited SSA thought leader. Bringing together the developers and implementers of SSA capabilities and the architects of SSA policy provides a forum to interact at a time when the landscape is rapidly changing.