Registration has opened for the 19th AMOS Conference to be held September 11-14, 2018 at the Wailea Beach Resort.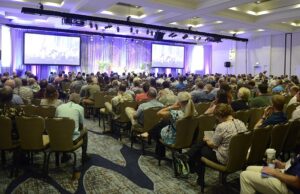 The Advanced Maui Optical and Space Surveillance Technologies (AMOS) Conference is the premier technical conference in the nation devoted to space surveillance. The cross section of military, contractor, and academic participation in the field of space situational awareness is unmatched by any other conference in the world, as evidenced by the continued growth in attendance, and the corresponding increase in technical excellence and collaboration.
The conference includes Keynotes, SSA Policy Forum sessions and technical sessions covering Adaptive Optics & Imaging; Astrodynamics; Non-Resolved Object Characterization; Optical Systems & Tasking; Orbital Debris; Space Situational Awareness and Space-Based Assets.
AMOS provides the opportunity to stay on the cutting edge of industry trends while networking and cross-sharing knowledge within the SSA community.  The Conference attracts participants from across the USA as well as internationally with 15 countries represented in attendance in 2017.
Exhibit & Poster Sessions
In addition to the plenary sessions, the Exhibit and Poster Sessions provide further opportunities to build relationships and learn about new technologies and developments in the Space arena.
Sponsorship opportunities are available for companies seeking maximum exposure to AMOS participants. Benefits range from hosted reception inclusive of food and beverage, exhibition space to display products and services, dedicated meeting room to meet with valuable customers during the conference, receive complimentary conference registrations and many more.
Click here to learn more about Registration.