Abstract Submission is Now Closed
Abstract Deadline: April 1, 2017 | Notification of Acceptance: May 15, 2017
Mahalo to the authors that have submitted an abstract.  Nearly 150 abstracts were received. The Program Committee has scheduled both oral and poster sessions. The abstract of both oral and poster papers are published in the same manner in the conference materials. Papers will be selected on the basis of the submitted abstract.
Update an Abstract
Select the Update an Abstract button and enter your paper id number.

Click here to upload Presenter Photo.
Notification of Acceptance
Authors will be notified of their acceptance status by May 15, 2017.
If selected to present their paper at AMOS 2017, authors consent to the following requirements:
Submission of a final Technical Paper prior to the deadline, typically the week before the Conference. A paper is required for all oral and poster presenters. No paper, no podium.
For individuals submitting more than one abstract, if both are accepted, a co-author must present one of the papers.
Publication of Abstract in the 2017 AMOS Conference abstract booklet. If it's a requirement in your organization, abstract should be cleared for public release prior to submission.
Publication of Technical Paper in the 2017 AMOS Conference proceedings.
Call for Proposals: Short Courses
Proposals are being solicited for full-day and half-day Short Courses to be presented at AMOS 2017. The short courses are intended to offer opportunities for participants to acquire an introductory knowledge on conference topics. Focus topics of broad interest from excellent instructors are encouraged. Short courses are solicited from all technical areas within SSA subject areas.
Submission Instructions
Please submit your proposal to info@amostech.com. Proposals should include the following information:
Instructor(s) information – name, affiliation, email, phone, and brief biography
Proposed title
Abstract
Course Outline
Briefly describe why you believe that this short course should be given during AMOS2017, highlighting the significance of the topic and the interest to the SSA community
---
2016 Abstracts of Technical Papers – Now Available for Download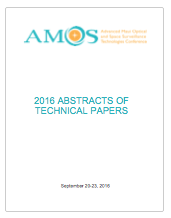 Download 2016 Abstracts of Technical Papers
---
Questions?
Contact the Conference Team at info@amostech.com.
Print This Page