Since 2016 an International SSA Data Operator Exchange workshop is held in conjunction with the Advanced Maui Optical and Space Surveillance Technologies (AMOS) Conference, on the Hawaiian island of Maui.
Presented by Maui Economic Development Board and The Aerospace Corporation, the enduring goal of the International SSA Data Operator Exchange workshop is to provide an opportunity to develop and advance insights and relationships among key international SSA data stakeholders including military, academic, civil, and commercial entities.  To accomplish this, the workshop chooses timely topics relevant to the global SSA community and allows each participant time to present their views.
2018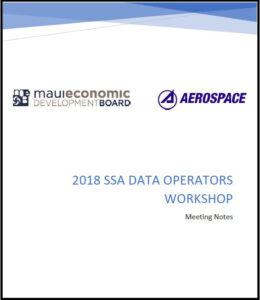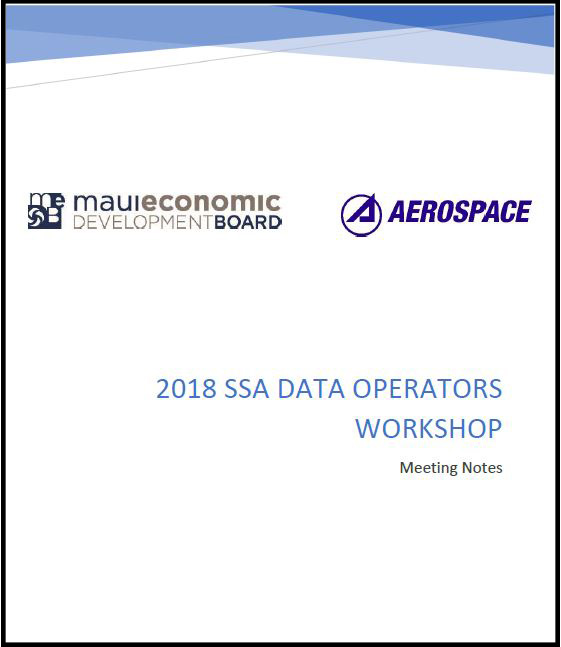 Cohosted by the UK Defence Science and Technology Laboratory (DSTL) and the Deutsches Zentrum für Luft- und Raumfahrt (DLR) and the Centre National d'Etudes Spatiales (CNES).
Major General Kimberly Crider, former United States Air Force (USAF) Chief Data Officer (CDO) provided the keynote address on behalf of the USAF Chief Data Officer entitled "Harnessing the Power of Data."
The 2018 SSA Data Operator Exchange workshop was focused on development of unified SSA data strategy objectives for consideration at a policy level.  A key aim was to help guide the international community in the development of a modern data strategy benefiting all members and ultimately improving global SSA.
2019
September 2019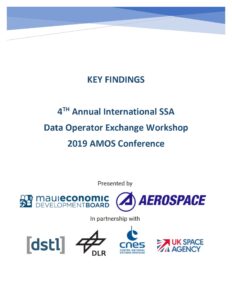 The long-term sustainability of space is an issue critical to the global community. Space delivered services such as GPS are essential for global prosperity, however the increasing congestion of space due to on-orbit debris poses a risk to active satellites that underpin much of the world's activity. Acknowledging this issue, an international workshop (the 4th such event) consisting of space subject matter experts was convened in connection with the September 2019 AMOS Conference to identify priority areas that need to be addressed by the international community to promote the responsible use of space to mitigate this risk.
Five priority areas were identified at the event that form our recommendations. The highest priority recommendation is the need for a regulatory framework pertaining to the safe and responsible operation of satellites licensed at a national level as part of a wider Space Traffic Management (STM) initiative. Action is required from policymakers to enable the development of a national STM regulatory framework that can evolve into an international framework. Any industry driven voluntary, consensus-based STM standards may be necessary, but they are not sufficient to fully mitigate the risk of unintentional collisions on orbit that pose the greatest risk to the sustainability of space.
April 2019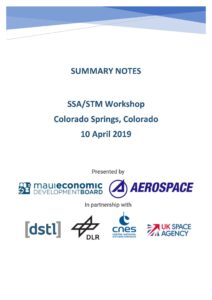 The Maui Economic Development Board (MEDB) and the Aerospace Corporation led the SSA/STM Workshop on April 10, 2019 at the Broadmoor Golf Club during the Space Symposium in Colorado Springs. This year's workshop included government, industry and non-governmental organization (NGO) representatives from Australia, Canada, France, Germany, Japan, New Zealand, Philippines, Poland, Republic of Korea, Thailand, Switzerland, the United Kingdom, and the United States of America.