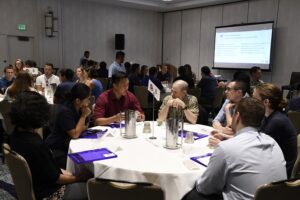 The annual EMER-GEN® is a joint initiative of the AMOS Conference and SGAC. The program is designed especially for young professionals and students enthusiastic about careers in space.
Originally a 2+ day program, EMER-GEN has grown to include webinars before and after the main event with a focus on fostering innovation and entrepreneurship among the cohort. Through the whole program, participants will be challenged to solve/hack a problem to create new opportunities for space-based technologies.
After going virtual in 2020 due to COVID-19, the 2021 EMER-GEN program will be in-person to make the most of networking and interactive programming.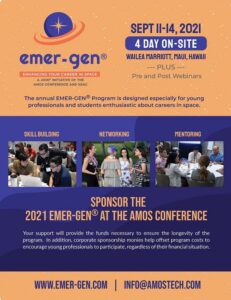 With the help of advisers from industry, government, academia and NGOs, the EMER-GEN experience offers:
Mentoring with renowned space specialists from the public sector (military and civil), private sector, and nongovernmental organizations
Networking with other young professionals
Technical Short course presented by specialists in space situational awareness
Professional Development sessions to enhance your effectiveness in a global environment
Become a sponsor of the 2021 EMER-GEN program supporting the next generation.
2020 EMER-GEN Schedule:
Pre-Event Webinars
Webinar 1 | August 26
Webinar 2 | September 2
4-day virtual EMER-GEN Program
Saturday, September 12
Guest Speaker | Communication in Multicultural, Generationally Diverse, Sector, and Team Settings
Guest Speaker | Leadership
Virtual Field Visit | Tour of Space Assets on Big Island
Hawaii Cultural Session | Hawaii Compass
Sunday, September 13
Panel | Career Opportunities in Space
Mentor Session
Consensus Building Session
Monday, September 14
Panel | Emerging Nations
Hack-a-thon
Tuesday, September 15
Technical Short Course – participate in one of AMOS Short Courses
+ 4 Follow-up Weekly Webinars starting September 30
What Other's Say
"Overall, EMER-GEN taught me more than I expected. I feel refocused to improvement within the agency I currently work for. EMER-GEN is great because you do not learn these types of career skills in college. It is a valuable experience that I hope to be a part of again in the future." Kyla Edison, PISCES
"EMER-GEN aimed to engage the participants into active debates on numerous issues in space. Merging policy and technical considerations leveraged the multifaced expertise of the cohort. The result of this far exceeded our expectations." Quentin Verspieren, Intelligent Space Systems Laboratory, The University of Tokyo
"The mentoring session was a conference highlight for me. In fact, being put in touch with and mentored by renowned space specialists coming from the public and private sector, and NGOs, gave me a lot of energy to work harder to reach my goals." Fatoumata Kebe, International Astronomical Union
"Effective leadership was a key take away for me. The cohort interactively faced worldwide challenges in the field and exchanged ideas to solve crucial issues in leadership roles. The cultural awareness session was also a valuable tool to support my own working relationships within the international community." Victoria Carter-Cortez, SGAC, 2019 EMER-GEN Cohort
"For me the most important takeaway from EMER-GEN was the inspiration I received from the mentors and the cohort. We exchanged knowledge and ideas that I can use in my current job." Nicole Gagnier, Boeing, 2019 EMER-GEN Cohort
"Great to meet other young professionals as well as leaders in the field. We discussed career paths and it opened my eyes to new opportunities." Stephanie Brown, Northrop Grumman, 2018 EMER-GEN Cohort
"This was a great opportunity to learn from renowned space specialists, network with industry peers, and learn professional skills."
Robert Kalei Miler, Pacific Disaster Center, 2018 EMER-GEN Cohort
"One of the highlights of the program is how participants are making real- life issues relevant and applying them to the current use of space. Discussing obligations at a national level, then going a step further with global discussions about what other countries are doing, was a critical-thinking exercise for a shared approach towards international cooperation."
Victoria Samson, Director, Secure World Foundation, 2018 & 2019 EMER-GEN Mentor.
---
The Space Generation Advisory Council is a global non-governmental, non-profit (US 501(c)3) organisation and network which aims to represent university students and young space professionals ages 18 to 35 to the United Nations, space agencies, industry, and academia. Headquartered in Vienna, Austria, the SGAC network of members, volunteers and alumni has grown to more than 13 000 members representing more than 150 countries.

https://spacegeneration.org/