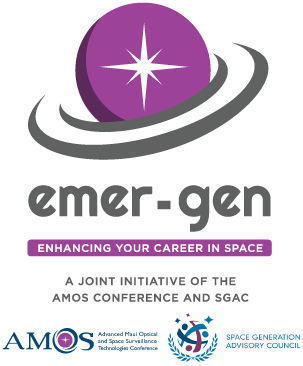 The first annual EMER-GEN™ is a joint initiative of the AMOS Conference and SGAC. The program is designed especially for young professionals and students (35 and under) enthusiastic about careers in space.
With the help of advisors from industry, government, academia and NGOs, we created an experience that offers:
Mentoring with renowned space specialists from the public sector (military and civil), private sector, and nongovernmental organizations
Networking with other young professionals
Short courses led by experts drawn from an array of fields related to space situational awareness
Professional Development sessions to enhance your effectiveness in a global environment
Space is limited so we encourage you to register early. Registration fee includes:

Sunday,
September 9

2018 EMER-GEN Launch Reception

Monday,
September 10
Breakfast with EMER-GEN Cohort
Professional Development Workshop
Extended Lunch Session with Mentors


Aloha Reception

Tuesday,
September 11

Breakfast and Lunch with EMER-GEN Cohort


Technical Short Courses (learn more)


AMOS Conference Welcome Reception

 

Optional:  September 12-14 AMOS Conference
EMER-GEN participants are eligible for the special EMER-GEN registration rate of $625 to AMOS Conference.  Separate AMOS registration required.
EMER-GEN Registration* – Deadline August 15
EMER-GEN, Sun-Tue, September 9-11
$250 | EMER-GEN Registration
$200 | EMER-GEN Registration for Students**

*The EMER-GEN registration fee does not include hotel or travel expenses or AMOS Conference registration fee.
**Student rate is for undergraduate and graduate students, without full-time employment, who are pursuing a degree in a science, technology, engineering, and math (STEM) at an accredited college or university.
EMER-GEN Refund and Substitution Policy
Cancellations prior to August 10, 2018 will receive a full refund less $50 processing fee. No cancellations will be accepted nor fees refunded after this date. There will be no refunds for no-shows. Last day to substitute a registration is September 5, 2018.
---
AMOS Conference Registration

(Separate registration)
The EMER-GEN Participant registration rate for the AMOS Conference is $625.

The Space Generation Advisory Council is a global non-governmental, non-profit (US 501(c)3) organisation and network which aims to represent university students and young space professionals ages 18 to 35 to the United Nations, space agencies, industry, and academia. Headquartered in Vienna, Austria, the SGAC network of members, volunteers and alumni has grown to more than 13 000 members representing more than 150 countries.

https://spacegeneration.org/