Haleakalā: A Sense of Place is a film produced and directed by Maui's Jay April, in collaboration with Maui Economic Development Board, Inc. (MEDB) and created for the employees, contractors and visitors of the Air Force Research Laboratory (AFRL) and the UH Institute for Astronomy.  It's aim is to educate and foster a sense of stewardship for the cultural significance and natural diversity found on Haleakalā.
"In the Hawaiian way of thinking, Haleakalā is our ancestor," explains Kumu Hula Hokulani Holt-Padilla
In the film, produced in 2005, Holt-Padilla is joined by the late Kahu Charles Kauluwehi Maxwell Sr., the late Kumu Hula Charles Ka'upu, Kaho'olawe cultural education director Kaleikoa Ka'eo, U.S. Geological Survey biologist Art Medeiros and Polynesian Voyaging Society master navigator Nainoa Thompson to share their views about the lore, the myths and the biology of the 2-million-year-old volcano.
The Hawaiian Island of Maui provides an ideal setting for 21st century research and development.  In fact, for fifty years, Maui has been a research center emphasizing space surveillance, astronomy, supercomputing, and more.  The accomplishments at the Maui Space Surveillance Site are enormous and the contributions made to science immeasurable.
It is recognized that responsible development should also respect Maui's cultural and environmental values.
During the construction of AEOS in February 1997, more than 100 tons of rocks were removed from Haleakalā, a practice forbidden by Hawaiian cultural and spiritual customs.  After a stop-work order was issued, and lengthy investigation and negotiation, arrangements were made to return the rocks to the site.  This corrective action was taken as part of the Air Force's agreement to recognize the sacred nature of Haleakalā to native Hawaiians.
The Air Force and its prime contractor responsible for crushing the rocks also agreed to several steps to prevent a repeat occurrence.  First, they agreed to conduct a "sense of place" class for all employees, to remind them "to think Hawaiian because the land, the ocean and its surroundings are considered sacred to the Hawaiian people."  Second, the Air Force agreed to distribute an informational brochure to workers and visitors showcasing the cultural significance.
It was this concern for local culture during the construction of AEOS that Senator Daniel K. Inouye would later praise when he commended the Air Force for its "sensitivities of the sacred mountain and cultural needs of Maui."
The film and accompanying brochure creates an educational opportunity not only for the workers at the Haleakalā site, but also for Maui's residents and visitors, especially those seeking a deeper understanding of Native Hawaiian culture.
On February 20, 2005 MEDB hosted a premiere of Haleakalā: A Sense of Place with over 900 people attending.  People commented after the premiere what a special experience it was: from the hula kahiko performed by Ka Pa Hula O Ke Kula Kaiapuni O Maui, Hawaiian Language Immersion students, to the never-before-seen footage of native birds in the film, to the breathtaking display of upland native plants assembled by the Maui Nui Botanical Gardens, Ho'olawa Farm, Punana Leo and Kula Kaiapuni, to a discussion on astronomy in modern and ancient times with Kaleikoa Ka'eo of the Kaho'olawe Island Reserve Commission and Paul Coleman of the Institute for Astronomy.
The film serves as a reminder to all of us to protect this precious resource.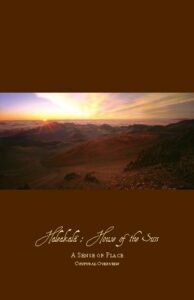 Download the Booklet
Film features:
Nainoa Thompson
Kumu Charles
Kahuluwehi Maxwell
Charles Kaupu
Hokulani Holt
Kaleikoa Ka'eo
Biologist Art Medeiros and others.
Music by:
Barry Flanagan
Gabby Pahinui
Kevin and Ikaika Brown
Producer and Director of the film, Jay April is President and CEO at Akakū Maui Community Media. He is a video journalist and filmmaker whose work has been featured on many national networks and film festivals worldwide. His other credits include: Special correspondent to CNN's Environmental Unit, the PBS series, The 90s, the start up of E! Entertainment Television and Best Super Bowl commercial according to USA today.   
Read More
Further reading:
The Haleakala Times, Geoffrey Moore, March 16, 2005