SEPTEMBER 17-20, 2024
WAILEA BEACH RESORT MARRIOTT
MAUI, HAWAIʻI
Top scientific conference in the field of space situational awareness (SSA)/space domain awareness (SDA)
The Advanced Maui Optical and Space Surveillance Technologies (AMOS) Conference, September 19-22, 2023, is the premier technical conference in the nation devoted to space situational awareness/space domain awareness. The cross section of private sector, government, and academic participation helps foster important dialogue and international collaboration. The continued growth in attendance and participating countries at AMOS reflects a growing interest in space sustainability and space commerce initiatives as new actors—national governments, private sector companies, non-governmental entities, and universities—become involved in these activities.
Foster the cross-sharing of knowledge within the global SSA/SDA community

and join the discussion on international space policy.
Connect with technical experts and decision makers

, paving the way for innovations and partnerships.
Track the latest SSA/SDA advancements and industry trends

through numerous technical presentations, panel discussions, and senior level keynotes.
Conference Highlights Video
"AMOS is the rare, perhaps the only, conference that creates an integrated program of events useful and helpful to both groups, individually, as well as promoting their interaction. I can move seamlessly between technical papers in my discipline of interest to sidebar meetings with other administrators to create and advance collaborative arrangements among different government agencies or industry partners. If I were to attend only one conference each year, it would be the AMOS conference."
Matt Hejduk
Astrorum Consulting
"The first-hand perspectives and interactions with the international community are priceless. How we are contributing to these efforts geographically, and through the different sectors that are involved, is key to the future of space."
Francesca Letizia
European Space Agency
"The AMOS Conference is a great way to meet and mingle with others we don't see all the time. I get to hear different opinions, and discuss issues at the level of policy and technology operations for SSA."
Regina Peldszus
German Space Agency Department of SSA
"AMOS is the one place in the world that I can come to talk about the work that I do to protect all the important technology that we have in Earth orbit, and that helps keep us safe and secure in our daily lives. AMOS is up there with the most professional conferences in the world."
Tamara Payne
Altamira Technologies Corporation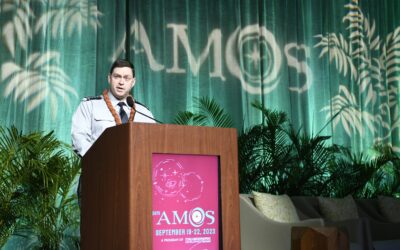 Wildfires, a four-star general and a sold-out conference headlined the 24th AMOS Conference held September 19-22 at the Wailea Beach Resort, Maui.  The premier technical conference in the nation devoted to Space Domain Awareness hosted 1082...
read more