The 16th AMOS Conference was attended by 540 participants with over 50% from industry, 26% from military and government, 13% from academia and 7% from FFRDCs. The Conference featured more than 100 technical papers in the fields of sensor processing, adaptive imaging and Space Situational Awareness (SSA), and showcased 25 sponsors and 17 exhibitors.
Photos & Videos

Photos

Videos
Summary Report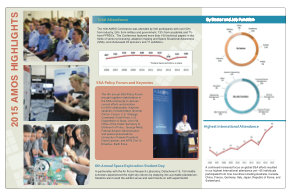 Download Keynote and Invited Remarks
Major General Clint Crosier, Director of Plans and Policy for Headquarters, United States Strategic Command
Frank Rose, Assistant Secretary of State for Arms Control, Verification, and Compliance, U.S. Department of State
John Hill, Principal Director for Space Policy, Department of Defense
Program Schedule

Download 2015 Conference Program
Presenter Abstracts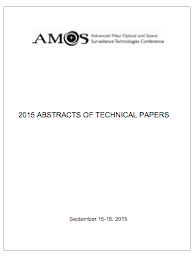 Download the 2015 Abstract Booklet
Technical Chairs
Wes Freiwald, IAI-PDS
Paul Kervin, AFRL/RDSM
Conference Advisor
Col L. Kirk Lewis, Ret., Institute for Defense Analyses
Session Chairs
Adaptive Optics and Imaging, Glenn Tyler, the Optical Sciences Company
Astrodynamics, Moriba Jah, Air Force Research Laboratory
Non-resolved Object Characterization, Doyle Hall, Boeing LTS and Matt Hejduk, Astrorum Consulting
Orbital Debris, Tim Flohrer, European Space Agency
Optical Systems, Jim Mayo, Tau Technologies
Space Situational Awareness, Lt Col Elizabeth Campbell, SMC/SYAZ and Lt Col Larry Gunn, DARPA
Space Weather, Randall Alliss, Northrop Grumman Corporation

Sponsors and Exhibitors
American Astronautical Society
The premier network of current and future space professionals dedicated to advancing all space activities. The American Astronautical Society has long been recognized for the excellence of its national meetings, technical meetings, symposia and publications and for their impact on shaping the U.S. space program. Members have opportunities to meet with leaders in their field and in related disciplines, exchange information and ideas, discuss career aspirations and expand their knowledge and expertise.
Analytical Graphics, Inc.
Analytical Graphics, Inc. (AGI) supply software applications and development kits to the Space, Defense and Intel communities for Modeling, Simulation and Analysis of Space, Cyberspace, UAV, C4ISR, Missile, and Electronic Systems. Learn more at http://www.agi.com.
Applied Defense Solutions
Applied Defense Solutions, Inc. (ADS) is a highly-specialized Technical Services and Solutions company that applies our operational experience and development knowledge to provide unique subject matter expertise and to build highly effective mission critical systems for its' customers. Headquartered in Columbia Maryland, with offices in Virginia and Colorado, ADS addresses the space systems, national security space, geospatial information systems, and modeling & simulation markets for the Department of Defense, Intelligence Community, Civil Space, and the Commercial Space Industry. ADS has on-going work spanning the full project life cycle from mission concept studies, research & development, system development & integration, mission planning, and mission operations across multiple satellite orbit regimes (LEO, HEO, GEO, lunar, and interplanetary).
Applied Optimization
Since 1995, Applied Optimization, Inc. has led in solving complex problems for the United States government, strategic partners, and industry. They specialize in interdisciplinary research and development in the applications of astronomy and physics to the collection and analysis of electro-optical brightness data for objects in space that are either too small or too far to be observed as a resolved image with telescopes.
ASRC Federal
ASRC Federal comprises a family of companies that deliver engineering, information technology, logistics and technical services and solutions to U.S. civil and defense agencies. ASRC Federal companies have employees in over 40 locations across the U.S. focused on providing reliable, cost-efficient services that help government customers achieve mission success. Headquartered in Beltsville, Md., ASRC Federal is a wholly owned subsidiary of Arctic Slope Regional Corporation.
Astro Haven Enterprises
Astro Haven Enterprises (AHE) manufactures clamshell dome shaped fiberglass enclosures for optical, radar and other tracking instrumentation. AHE engineering includes 3‐D modeling, CFD analysis and FEA. AHE manufacturing includes the latest Vacuum Infusion Process (VIP) for the lightest, strongest, and greenest product.
Ball Aerospace
Ball Aerospace & Technologies Corp. is a subsidiary of Ball Corporation. Ball Aerospace is a leader in design, development and manufacture of innovative aerospace systems. They produce spacecraft, instruments and sensors, RF and microwave technologies, data exploitation solutions and a variety of advanced aerospace technologies and products that enable exciting missions.
The Boeing Company
Boeing is the world's largest aerospace company and leading manufacturer of commercial jetliners and defense, space and security systems. A top U.S. exporter, the company supports airlines and U.S. and allied government customers in 150 countries. Boeing products and tailored services include commercial and military aircraft, satellites, weapons, electronic and defense systems, launch systems, advanced information and communication systems, and performance-based logistics and training.
Celestron
Celestron has been an optics industry leader for decades, ever since Tom Johnson unveiled the game-changing C8. They strive to continue his legacy by continually developing exciting products with revolutionary technologies. Visit the http://www.celestron.com/ to learn all about their patented, one-of-a-kind innovations.

COMDEV International
COM DEV International Ltd. is a global designer and manufacturer of space hardware. They are world leaders in the production of space-qualified passive microwave equipment, specialized electronics and optical subsystems. Learn more
County of Maui
Support for the AMOS Conference comes through the County's Office of Economic Development which works in partnership with the community, business and government sectors to strengthen and diversify the economy by supporting existing businesses, and by assisting in the attraction, development and expansion of new businesses. Learn more
Harris Corporation
Harris provides advanced, technology-based solutions that solve government and commercial customers' mission critical challenges. The company has approximately $8 billion in annual revenue and about 23,000 employees – including 9,000 engineers and scientists – supporting customers in more than 125 countries.

Integrity Applications Incorporated-Pacfic Defense Solutions (IAI-PDS)
Integrity Applications Incorporated (IAI℠) is an engineering and software services and solutions company with a nationwide presence primarily supporting the intelligence community and other civil, defense and intelligence customers with a focus on Government space and intelligence surveillance reconnaissance systems activities. Pacific Defense Solutions, LLC (PDS) is a wholly owned subsidiary of Integrity Applications Incorporated. Pacific Defense Solutions is based in Kihei, Hawaii. The PDS team's expertise in space surveillance have made them a critical asset in the Space Situational Awareness and space control communities.
Japan Space Forum (JSF)
JSF was established to coordinate an alliance of industry, government, and academia for the development of Japan's aerospace industry. JSF operates under policies established by the Japanese government and the Japan Aerospace Exploration Agency (JAXA) while providing support for research proposals and implementing programs designed to educate and enlighten the public about the aerospace industry as well as provide for the exchange and development of human resources.
Lockheed Martin Corporation
Headquartered in Bethesda, Maryland, Lockheed Martin is a global security and aerospace company that employs approximately 112,000 people worldwide and is principally engaged in the research, design, development, manufacture, integration and sustainment of advanced technology systems, products and services. The Corporation's net sales for 2014 were $45.6 billion.
Maui High Performance Computing Center
The MHPCC DSRC, established in 1993, is an Air Force research Laboratory (AFRL) Center managed by the University of Hawaii under contract to the Air Force Research Laboratory's Directed Energy Directorate at Kirtland Air Force Base, New Mexico. The MHPCC DSRC operates as one of the six DoD Supercomputing Resource Centers in the DoD's High Performance Computing Modernization Program (HPCMP). The MHPCC DSRC allocates more than 70,000,000 computational hours annually to the HPCMP Research, Development, Test, and Evaluation community.
Northrop Grumman
Northrop Grumman is a leading global security company providing innovative systems, products and solutions in unmanned systems, cyber, C4ISR, and logistics and modernization to government and commercial customers worldwide.
Orbital ATK
Orbital ATK is a global leader in aerospace and defense technologies. The company designs, builds and delivers space, defense and aviation-related systems for customers around the world, both as a prime contractor and merchant supplier. Its main products include launch vehicles and related rocket propulsion systems; satellites and associated components and services; composite aerospace structures; tactical missiles, subsystems and defense electronics; and precision weapons, armament systems and ammunition. Headquartered in Dulles, Virginia, Orbital ATK employs more than 12,500 people in 20 states across the U.S. and in several international locations.
PlaneWave Instruments
PlaneWave Instruments was founded in 2006 by Richard Hedrick and Joseph Haberman, two former telescope engineers at Celestron. Getting a product like the CDK into the hands of serious imagers and amateur astronomers has been a shared vision of Hedrick and Haberman for many years. PlaneWave Instruments is committed to providing the highest quality observatory-class products for astronomers.
Raytheon
Raytheon Company is a technology and innovation leader specializing in defense, civil government and cybersecurity markets throughout the world. With a history of innovation spanning 92 years, Raytheon provides state-of-the-art electronics, mission systems integration and other capabilities in the areas of sensing; effects; and command, control, communications and intelligence systems; as well as a broad range of mission support services.
Sandia National Laboratories
Sandia National Laboratories is operated and managed by Sandia Corporation, a wholly owned subsidiary of Lockheed Martin Corporation. Sandia Corporation operates Sandia National Laboratories as a contractor for the U.S. Department of Energy's National Nuclear Security Administration (NNSA) and supports numerous federal, state, and local government agencies, companies, and organizations.
Scitor Corporation, an SAIC company
Scitor Corporation is the forward-thinking provider of a pioneering service concept called Total Solutions™. Scitor's world-class workforce is comprised of professionals from broadly diversified backgrounds such as former military, government and intelligence officers, business leaders from wide-ranging industries, multi-disciplinary scientists, mathematicians, information and financial analysts, and all disciplines of engineers. They collaborate with customers and across their business areas to support all phases of complex systems and programs — from initial concept and requirements definition, to acquisition, development and deployment, to operations and maintenance.
Secure World Foundation
Secure World Foundation is an endowed, private operating foundation that promotes cooperative solutions for space sustainability and the peaceful uses of outer space. The Foundation acts as a research body, convener and facilitator to promote key space security and other space related topics and to examine their influence on governance and international development.
Solers Inc.
Solers is at the forefront of Space Situational Awareness data and processing capabilities and bring innovative solutions to our customers in the U.S. Government. Solers Inc. is a software development and systems integration company developing innovative information technology solutions that exceed customer expectations. Our SSA tools feature dynamic web-based user interfaces powered by the latest in cloud and distributed processing techniques to provide a comprehensive space picture by fusing disparate data sources and sensor types into cohesive intelligence products and timely notifications. Our SSA suite includes applications for object behavioral pattern analysis, asset protection, search and discovery, and object custody maintenance.
Software Bisque
Software Bisque develops low cost satellite tracking systems including The SkyX Professional Edition Astronomy Software which is an essential tool for observatory control, deep space imaging and scientific discovery, and includes the broadest range of advanced features to enhance your experience under the night skies.
Space Foundation
The Space Foundation is the foremost advocate for all sectors of the space industry and an expert in all aspects of space, the Space Foundation is a global, nonprofit leader in space awareness activities, educational programs that bring space into the classroom and major industry events, including the National Space Symposium, all in support of their mission to advance space-related endeavors to inspire, enable and propel humanity.
SpaceNav
SpaceNav is a Colorado-based applied mathematics & aerospace engineering company. They deliver technical solutions in the areas of Space Situational Awareness, Systems Engineering, and Mission Operations. SpaceNav's expertise is in the areas of modeling & simulation, estimation, orbit determination, and optimization.
Trex Enterprises Corporation
Trex Enterprises Corporation (Trex) is a diversified high-technology company specializing in cutting-edge technical solutions and products to improve performance across the electromagnetic spectrum. They have developed a strong base of proprietary technologies in microwave sensing, high resolution imaging, digital signal processing, applied optics and materials.
Universities Space Research Association (USRA)
USRA is an independent, nonprofit research corporation where the combined efforts of in-house talent and university-based expertise merge to advance space science and technology. USRA works across disciplines including biomedicine, planetary science, astrophysics, and engineering and integrates those competencies into applications ranging from fundamental research to facility management and operations.
University of Hawai'i
Research conducted by the University of Hawai'i (UH) impacts the quality of life in the islands and around the world. Because of Hawai'i's tremendous geographic diversity that encompasses erupting volcanoes, frozen summits, tropical rain forests and the deep ocean, UH research is equally as diverse with its world-renowned research programs in astronomy, earth and ocean sciences, medicine and tropical agriculture.