The Technical Proceedings from the 18th Annual Advanced Maui Optical and Space Surveillance Technologies Conference (AMOS), are now available for purchase.

This year's  program featured thought-provoking technical sessions and interactive poster presentations on topics of astrodynamics, optical systems, adaptive optics & imaging, tasking, orbital debris, non-resolved object characterization and space situational awareness.
To review all 2017 papers click here.
You can also view a Highlight Summary of the 2017 Conference.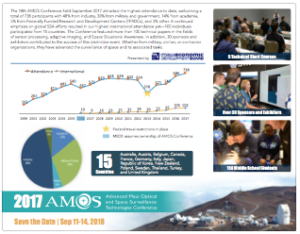 2018 AMOS – SAVE THE DATE
We appreciate your continued support and look forward to welcoming you to AMOS 2018, September 11-14, 2017. Stay tuned for the Call for Papers in January!