The 19th AMOS Conference was the largest in its history bringing together representatives from government, industry, and academia to discuss the rapid changes in the field of Space Situational Awareness (SSA) and Space Traffic Management (STM). The SSA community is growing globally, evident in the number and proportion of international attendees at the annually-held AMOS Conference, one of the principal technical conferences in SSA. Over 840 attendees from 23 countries participated in the strong technical program. Keynote speakers, panel discussions, technical short courses, exhibits and poster presentations addressed the growing number of space operators, the move to commercial activities, and the importance of balancing commercial innovation with national security and international relations.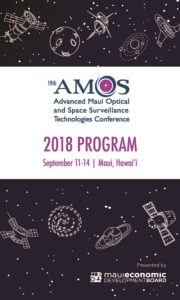 Download 2018 Conference Program
Summary Report from the 6th Annual AMOS Dialogue on SSA and Satellite Servicing
The sixth annual AMOS Dialogue, a small, invitation-only workshop co-hosted by the Maui Economic Development Board (MEDB) and Secure World Foundation (SWF) was held during the 2018 Advanced Maui Optical and Space Surveillance Technologies (AMOS) Conference to discuss the links between space situational awareness (SSA) and commercial rendezvous and proximity operations (RPO) and on-orbit satellite servicing (OOS). Download Publication
Best Paper and Student Award Winner
Probabilistic Data Association Based on Intersection of Orbit Sets
Laura Pirovano, University of Surrey
Conference Photos & Videos
EMER-GEN
2018 AMOS Conference – Part 1 (Opening, Policy Forum, Closing and Award Winners)
2018 AMOS Conference – Part 2 ( (Short Courses, Receptions, Exhibit Hall and Registration)
Satellite and Astronomy Viewing
2018 Space Exploration Student Session
Videos of the Opening, Keynotes and SSA Policy Forums are available on the AMOS Conference YouTube channel.

Technical Chairs
Paul Kervin, AFRL/RDSM
Wes Freiwald, PDS
Conference Advisor
Col L. Kirk Lewis, Ret., Institute for Defense Analyses
Session Chairs
Adaptive Optics and Imaging
Scott Hunt, Air Force Research Laboratory
John Lambert, Cornerstone Defense
Astrodynamics
Islam Hussein, L3 Applied Defense Solutions
Vishnuu Mallik, University of Texas at Austin
Non-Resolved Object Characterization
Heather Cowardin, Jacobs-JETS
Marcus Holzinger, University of Colorado Boulder
Optical Systems & Instrumentation
Tamara Payne, Applied Optimization
Jim Shell, Novarum Tech
Orbital Debris
James Frith, Orbital Debris
Noelia Sanchez Ortiz, Deimos Space
Poster
Rita Cognion, BAE Systems
Tom Kelecy, L3 Applied Defense Solutions
Space Situational Awareness
Greg Cohen, Western Sydney University
Tim Flohrer, ESA/ESOC Space Debris Office
Space-Based Assets
Pat Patterson, Space Dynamics Laboratory
Jeff Sherk, Metis
Mahalo to our 2018 Sponsors and Exhibitors

Featured Exhibitors

a.i. solutions
LeoLabs
AFRL | AFOSR
Lockheed Martin
AGI
Northrop Grumman
Applied Optimization
NPC
Astro Haven Enterprises
Numerica Corporation
Astrosysteme Austria
Orbit Logic
Boeing
PlaneWave Instruments
CACI
SAIC
Celestron
Sierra Nevada Corporation
Charles River Analytics
Space Environment Research Centre
EOS Space Systems
Tesat Spacecom
ExoAnalytic Solutions
TOPTICA Photonics
Finger Lakes Instrumentation
Tyvak Nano Satellite Systems, Inc.
Kratos RT Logic
University of Hawaii