The 5th annual EMER-GEN® Program, presented by the Maui Economic Development Board (MEDB) on September 25-27 at the Wailea Beach Resort-Marriott, was designed especially for young professionals and students enthusiastic about careers in space. A joint initiative of the Advanced Maui Optical and Space Surveillance Technologies Conference (AMOS) and the Space Generation Advisory Council (SGAC), the program was in-person with a series of pre-event webinars to help nurture the next generation of space leaders.
The main two-day EMER-GEN program featured sessions in Celestial Navigation, Space Traffic Management (STM), Mentoring, Consensus Building, and the Hackathon. Working in teams, participants were challenged to find innovative ways to apply space-based technologies to advance the future of the space industry.

"MEDB was honored to provide a venue for dialogue among the 47 young professionals who joined the 2022 EMER-GEN cohort," said Leslie Wilkins, MEDB President and CEO. "This experience continues to provide pathways into future careers. With the help of advisors from industry, government, academia and NGOs, the EMER-GEN program offered the experience of mentoring with renowned space specialists, networking with other young professionals, technical short courses presented by specialists in SSA, and professional development sessions to enhance the effectiveness of the cohort in a global business environment."
Annette Lynch, MEDB Program Manager added, "This year's EMER-GEN program welcomed nineteen young space professionals from Hawaii, and the rest came from all over, as far away as India. Scholarships were available for Hawaii residents as the program also looks to help build the Hawaii aerospace sector."
Four young professionals on the planning committee helped the MEDB organizers shape the program. Two representatives nominated by SGAC, Rishin Aggarwal, Indian Space Research Organization, and Eniko Molnar, Satellite Applications Catapult (UK), were joined by 2021 alumnus Zachary Stein of The Boeing Company, a resident of Maui. Quentin Verspieren of the University of Tokyo, returned to the committee for the third year to provide his experience and knowledge of space policy and consensus building.
Aggarwal remarked,"EMER-GEN is relevant for young professionals because it is a platform that encourages a learning experience in all aspects of the space industry. I enjoyed being part of the planning committee and helping the cohort broaden their views while learning about all the opportunities that are available in SSA, STM, SDA, and Space Law and Policy."
Verspieren added, "The planning committee tried to prepare the younger generation to engage in the EMER-GEN conversation," he said, "because, as much as possible, we want them to open their minds and get familiar with all aspects of space-related conversations. Space is a field of great importance to all nations and all people."
Celestial Navigation
After an Aloha reception on the Sunday night to welcome the cohort to EMER-GEN 2022, the program kicked off Monday morning with Maui resident Kala Baybayan Tanaka who gave an interactive presentation on Celestial Navigation. She is responsible for Education Direction and Program Implementation at Hui O Wa'a Kaulua, a sea-voyaging non-profit organization on Maui dedicated to the practice and perpetuation of Hawaiian canoe building, wayfinding and voyaging arts.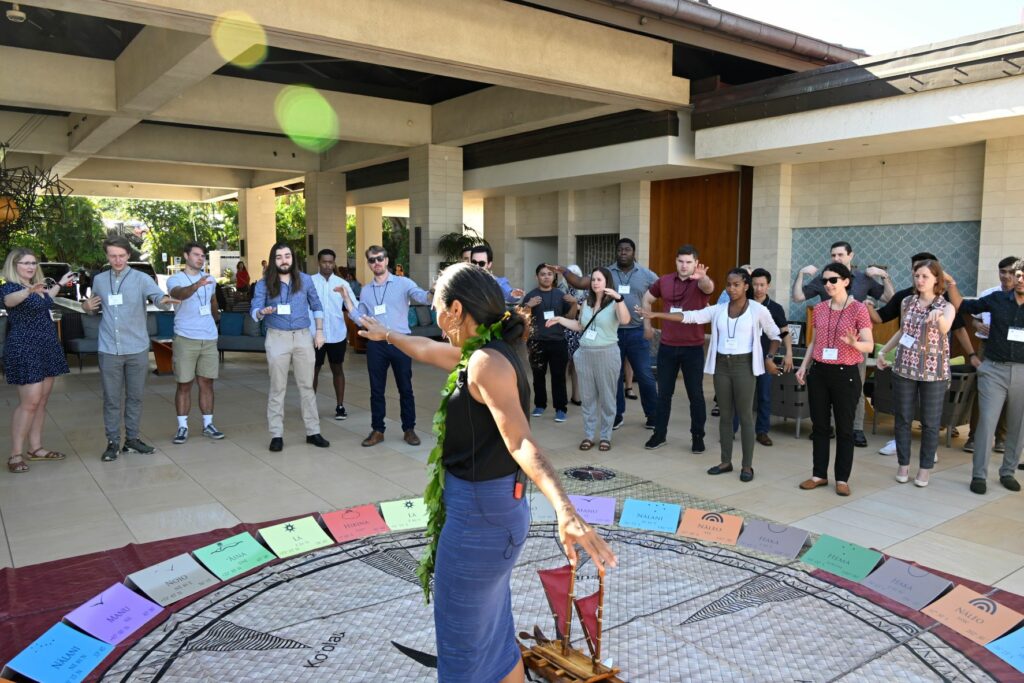 Tanaka introduced the EMER-GEN cohort to the Hawaiian star compass and other aspects of Hawaiian culture which pertain to leadership and communication. She inherited her love for the ocean and passion for sailing from her father, the late pwo (master) Chad Kalepa Baybayan, who served as one of the lead captains and navigators on the Mālama Honua Worldwide Voyage—Hōkūle'a.
Tanaka explained, "I shared Hawaiian lore, explored traditional navigational techniques and provided an intimate look at the relationship between the celestial bodies and history. Each of my own voyages taught me to be more in sync with my environment. In 2017, as captain and co-navigator alongside my father on the Hikianalia, I learned so much while sailing from Hawaii to Tahiti, thousands of miles, without modern instruments. I wanted to share my passion for wayfinding and told the cohort stories of the stars that have led my way forward, and always guided my way home."
Quentin Verspieren noted, "Tanaka made me realize how fascinating it is to understand how similar we are– although from different countries and cultures. However, by learning about the specific Hawaiian cultural elements I realized that there are many other cultures with similar ways of seeing things, but with different names. This presentation was a great lesson on the unity in diversity. The hands-on outside activity gave me the impression that we are really one humanity and we need to understand our direction from wherever we are standing."
Michael Mori, Hawaii Space Flight Laboratory, reflected, "The Celestial Navigation session put light on what Hawaiian culture is for aerospace. It was interesting because doing the hands-on exercise showed us that we need to learn the basics of navigation to survive wherever we are. There was a defining moment of unity that came forth from a lesson about a specific culture."
Imene Goumiri, Lawrence Livermore National Laboratory, USA/France, stated, "It was inspiring to navigate with Tanaka. Her passion for the sea and wayfinding was striking. I help astronomers process images, so learning about celestial navigation without modern instruments was new and enlightening. Tanaka's message about teamwork was key for the EMER-GEN cohort. We got the message and worked well together as we navigated through all the EMER-GEN sessions and activities."
Srikanth Kodeboyina, Blue Space, recalled, "Tying your culture to the past, present, and future is always important. Tanaka's presentation made me realize I am not just a space guy, and that space is connected to the sea and land navigation as well."
Does Space Need a Traffic Cop?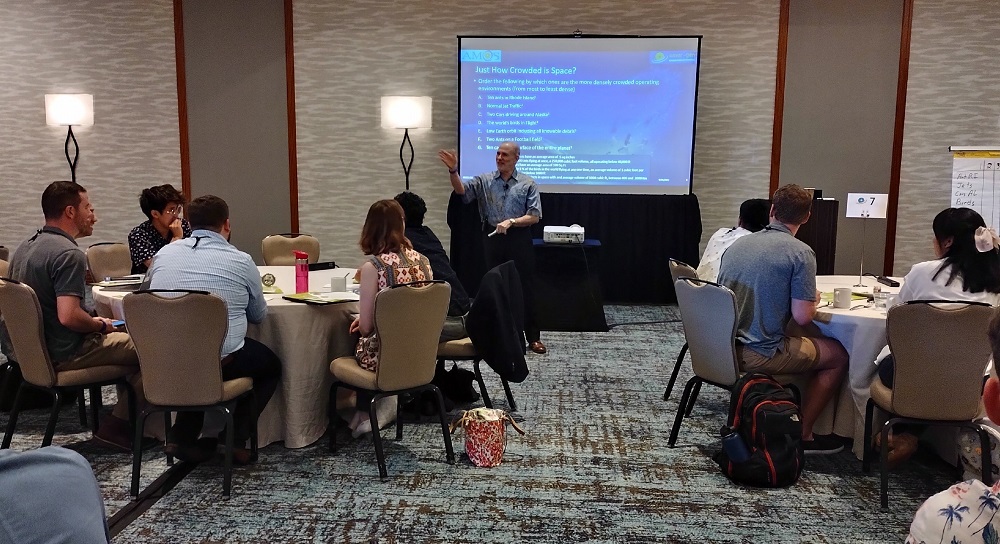 Doug Loverro, Loverro Consulting, LLC and former Deputy Assistant Secretary of Defense for Space Policy, presented an overview of Space and Space Traffic Management (STM) in this interactive presentation. Returning for the fifth year to speak to and mentor the cohort, he provided the young professionals insights into the interconnectivity between civil and military actors from both a national and international perspective.
A fun exercise had the cohort working in groups to consider how crowded space really is when put in perspective of currently known dense operating environments such as the density of normal jet traffic, or even two cars in Alaska.
"Opening topics that we contemplated were STM, the cost of it, and who should pay for it, and the most critical issues in STM that need to be solved immediately," said Loverro. "We talked about how crowded space really is, the risk, what rules already exist, and what new rules need to be and are being created."
The presentation was a useful overview to lead into the afternoon's consensus building session which would go further into working groups to consider these rules from a UN perspective.
Yosef Ben Gershom, Hawaii Space Flight Laboratory said, "It was great to get an overview about STM. The cohort examined the root of the problems and what we can do personally and collectively. Loverro really drove home the fact that if you are passionate about something you should and can do it."
Ellen Glad, Millennium Space Systems, added, "Loverro talked about the immediacy of STM policy because of the increase of satellites being deployed. Therefore, we all need to be educated about space law and policy."
Consensus Building — Reducing Space Threats through Norms, Rules and Principles of Responsible Behavior
Participants were asked to pursue two goals: Identifying potential threats and justifying their inclusion in the priority list of three, based on rational criteria such as imminence, consequence, likelihood or any other relevant criteria. Additionally, the cohort proposed simple measures to reduce the three top-priority threats that they identified, based on rational criteria such as impact, feasibility, timeliness or any other relevant criteria.
Victoria Samson, Washington Office Director, Secure World Foundation, provided background on 'Threats to Space Assets' during the third of three preparatory webinars, in an interview coordinated with Quentin Verspieren, Assistant Professor with The University of Tokyo and EMER-GEN Planning Committee member.
Verspieren acted as chair of the consensus building session and explained the basis for the session, "For the last few decades there was no real progress made on the security side of space, arms control and disarmament discussions. Most of the things happening were at the United Nations Committee for the Peaceful Use of Outer Space. However, those discussions hit a roadblock and have been inactive for decades. The UK and other partners pushed for a UN resolution on reducing space threats because now there are more capabilities to disrupt satellites, including cyber capabilities. Based on the work of the UK at the United Nations, a new working group established open-ended dialogueon reducing space threats on these specific issues. It is one of the first space security points of agenda on the conference for disarmament in Geneva.
"Knowing that space is contested and far more dangerous than ever, and that a lot of countries are developing counter-space weapons, the cohort worked in teams as future leaders, to understand the immediate challenges in the space environment, and to come to a consensus about what to do about it."
Verspieren concluded, "My hope for the cohort is that they become aware of how much the space infrastructure sustains our daily life, and that they give more thought to policymaking, no matter what their field of interest is."
Ifechukwu Ononye, Northrop Grumman, reflected, "Space policy is a new subject for me, but I see it is important to understand the rules of the road and how to define and establish norms for all nations to follow. With such important assets, guidelines are needed for all the challenges. So, consensus building is critical for working together to achieve solutions. This was an eye-opening exercise."
Michael Barton, a.i. solutions, noted, "Consensus building is huge as the global space environment is becoming more congested. The growing number of satellites in orbit necessitates engaging the younger generation of engineers to help build the bridge between the technical and policy aspects for space safety. This session defined what it will take to solve these problems at a professional level."
Dominique Low, MDA, Ltd., Canada, stated, "Consensus building presented an interesting scope and I would like to get into it deeper. I am a software engineer who barely knows what a treaty is; however, this session taught me that policy is really important, no matter what your field in the space industry is."
Almudena Azcārate Ortega, United Nations Institute for Disarmament Research, assisted with the session providing some talking points. "Consensus building is difficult at the international level," she said, "and should be pondered on by all fields in the space industry to get it right. That means interacting and coming to an agreement at a time when the landscape is rapidly changing and becoming hazardous. Creating consensus in a team setting means finding a proposal acceptable enough that all team members can support it. People at the United Nations are still struggling with consensus building because there are so many factors to consider. Perhaps this EMER-GEN cohort can give them a lesson on how it's done."
Mentoring Session
Renowned space specialists from a variety of fields related to SSA, SDA, and STM offered the cohort advice on educational opportunities and key programs to help advance their future careers, goals and milestones.
The 14 mentors for the session included Azcarate Ortego, Loverro and Samson, and they were joined by: Jerry Cornell, The Boeing Company; Heather Cowardin, Orbital Debris Program Office Laboratory and In-Situ Lead, NASA; Michael Gabor, Millennium Space Systems; Jacqui Hoover, Hawaii Island Economic Development Board; Diane Howard, National Space Council; Islam Hussein, Trusted Space; Moriba Jah, Privateer Space; Mark Mulholland, Office of Space Commerce in the U.S. Department of Commerce; Daron Nishimoto, MEDB; Jim Pryzybysz, Northrop Grumman Corporation; and Melanie Stricklan, Slingshot Aerospace.
Jerry Cornell, Boeing Company, reflected, "We have a critical shortage of students entering space careers, so we want our young professionals to stay with STEM. It is a critical time in space for commercial and defense purposes. Space-faring nations have grown and are launching satellites. It will take young minds like this EMER-GEN cohort to forge ahead. When you think about it, one of these students in aerospace will have a great influence on emerging technologies. We have many future leaders in this room!"
Heather Cowardin, Orbital Debris Program Office Laboratory and In-Situ Lead, NASA, said, "Mentoring is important because the benefit of this session will be with them throughout their careers. I hope that, when they walk out of here, they have a better understanding of orbital debris and what we do at NASA. I also hope they got to see how many opportunities are out there in the space industry and that they can stay in touch with so many of the mentors here today."
Diane Howard, National Space Council, emphasized, "Mentoring the next generation is key to maintaining the space environment. I hope that, by sharing my experiences in space law, interagency work, and working with Vice-President Harris, I can assist the cohort in their specialized fields, helping them make significant decisions in their futures."
Billy O'Brien, The Boeing Company, said, "The mentor session encouraged me to go further in my career. There were so many fascinating people to talk to from numerous space-related fields. This was a most helpful experience!"
Melissa St. Preux, John Hopkins University Applied Physics Laboratory, recalled, "The mentor session was the best part of my day! I asked so many questions. I even got to talk to Diane Howard who works with Vice-president Harris, plus leaders in the industry and university professors. I received guidance, along with new ideas, and a better understanding of what I want to do in the future."
Paolo Espejo, Robotics Space Exploration Laboratory, added, "The mentors were inspiring. This is truly a unique opportunity for younger people to come here and learn and have the chance to speak to mentors face-to-face. This is something many people might never have the chance to do."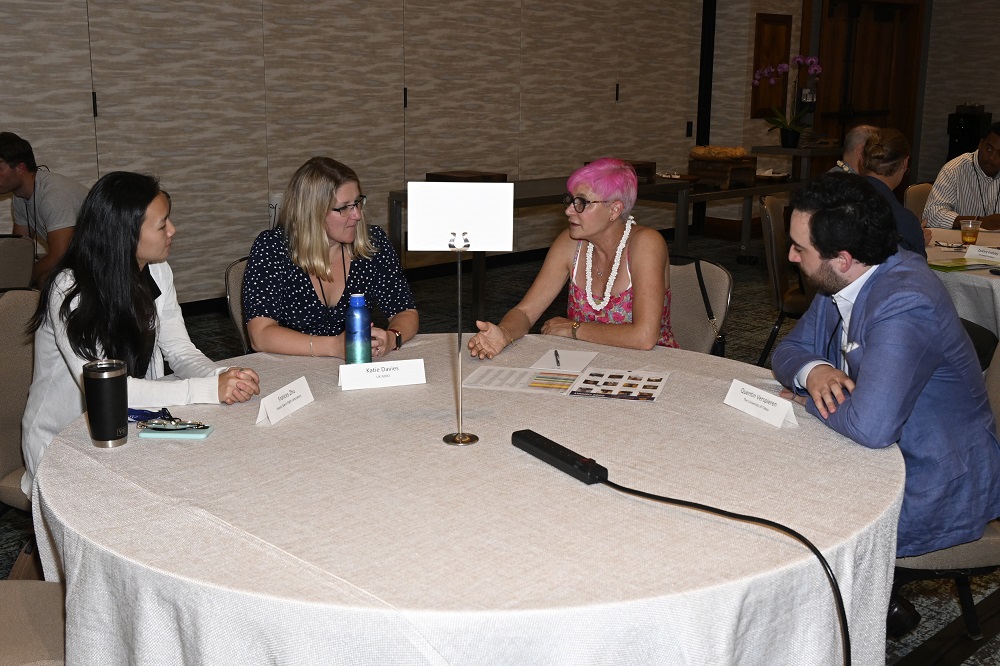 Hackathon
Tom Kubancik, founder and Executive VP, Trusted Space helped organize the Hackathon Challenge. The goal was to encourage innovation and to understand the process of developing a space-related commercial product or service. Leveraging the capacity provided by the NASA Artemis program or similar capability, a team of 5-6 participants pitched a product or service that will exist in the space economy in the next 5-15 years on or near the moon. The product or service came under a group of infrastructure categories needed to explore, commercialize, and populate the lunar frontier. A pitch presentation guideline was provided for the cohort to follow to meet the judging criteria.
Eight teams started working on the hackathon in the weeks leading up to EMER-GEN with three preparatory webinars. Guest speakers to provide background on the Artemis program and inspire ideas were Joe Cassady, Executive Director, Space, Aerojet Rocketdyne; and Bhavya Lal, Associate Administrator for Technology, Policy and Strategy & Acting Chief Technology Officer, NASA.
"I am both proud and excited to participate in EMER-GEN once again this year," said Kubancik. "It has been a wonderful opportunity to experience the intellect and creativity of the young professionals in our industry. Seeing how they process challenges in our Hackathon, has provided a front row seat into what the next generation of leaders are interested in and possibly where they will take our industry. The Artemis generation is here, and they have boundless opportunities. EMER-GEN enables them!
"This Hackathon is all about fresh and new thinking, the powerof ideas, and the power of the generation of everyone that sat in the room. The judges had a major challenge choosing the winning team. The presentations were all well planned and thought-out."
Ellen Glad, Millennium Space Systems, said, "This part of the program was a great challenge. We had to help brainstorm our ideas and learn how to figure out the challenges by working together and seeing it through to completion."
Zachary Stein, Boeing Company, added, "The Hackathon was great work. I really enjoy that type of task. We take an idea that can be realistic in the future. My team worked on a wireless power transmission concept for lunar operations."
The hackathon culminated with 5-minute pitch presentations by the eight teams to showcase their innovative solutions. The three judges to listen and evaluate the ideas and presentations were: Islam Hussein, Trusted Space; Paul Kervin, AFRL, retired; and Lisa Thompson, KBR
Lisa Thompson, KBR, pointed out, "EMER-GEN is a wonderful program to bring young minds together to look at problems that the space industry has faced for years, but in different perspectives. Being a mentor and a Hackathon judge allowed me to see how the cohort collaborated on solutions that we can actually use to advance space technologies. We are also learning from them. The EMER-GEN program does that."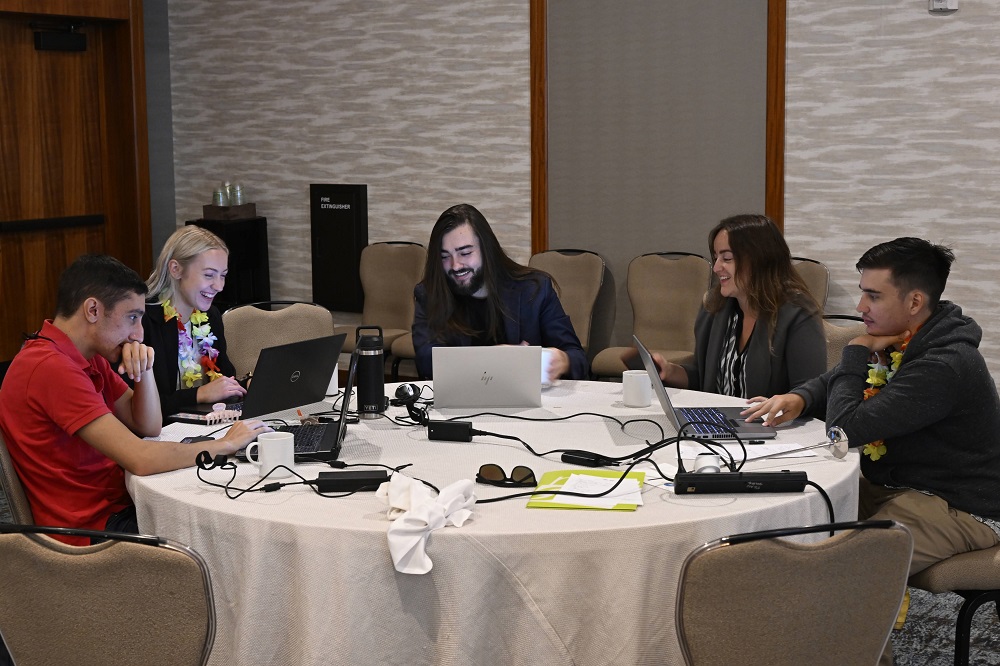 Hackathon Winners Announced
The winning team called themselves The Moon Masons with the title of their presentation "Where we're going, we need roads." The team members were Rishin Aggarwal, Indian Space Research Organization; Eniko Molnar, Satellite Applications Catapult, UK/Hungary; Melissa St. Preux, John Hopkins University Applied Physics Laboratory; Harrison Krantz, University of Arizona; Louis Lischwe, Delft University of Technology and Mitchell Kirshner, University of Arizona.
The team presented a future lunar scenario seeing the Moon as a permanent base with residence, power stations, launch sites, mining sites, fuel storage, and more. They offered a plan for transporting people and cargo across the lunar surface since the Moon's terrain is rough and corrugated.
Aggarwal explained, "Our team, 'The Moon Masons', adopted a rather unconventional approach when we decided to pitch the idea of building roads on the Moon. The requirement of roads on the Moon springs from the basic fact that the lunar surface terrain is quite uneven and poses a threat to the locomotion of cargo and humans."
"We came up with an adequate business model that would support our research objectives. Each member of our team worked on different yet interconnected parts of the pitch deck and that made all the difference when it came down to it. We worked harmoniously and put our thoughts on the table for other members to improvise on, and that kind of conducive atmosphere led us to create a funky cool pitch presentation."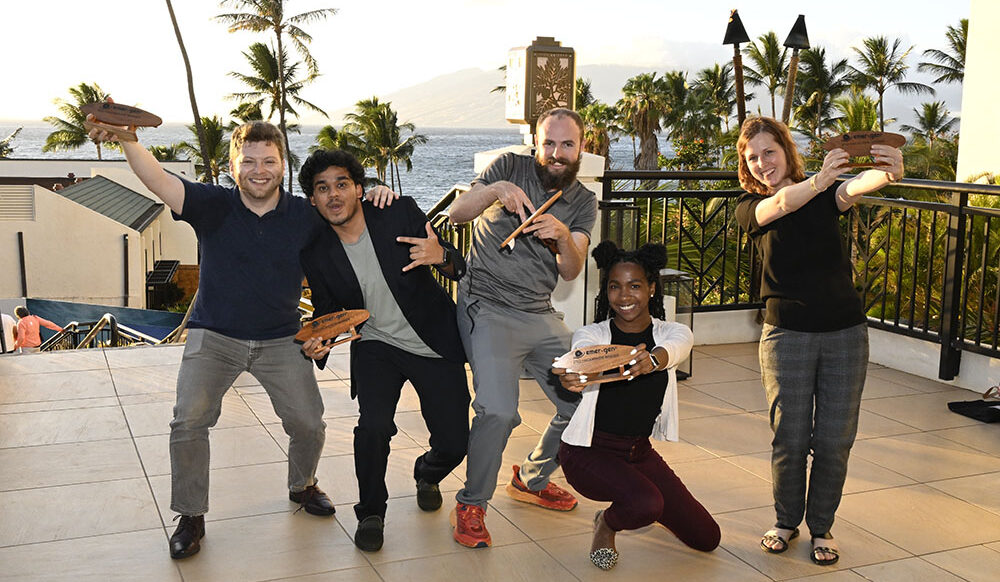 Technical Short Courses
Delegates participated in a short course of their choosing in the afternoon of Day 2. Presented by specialists in SSA, the courses serve to expand technical job skills and support developments in several different fields of interest.
This year they could choose from:
Demystifying Machine and Deep Learning
Observing and Characterizing Space Debris
An Introduction to Event-Based Sensors for SDA: A Hands-On Tutorial
Space Law & The Space Law Games
Astrodynamics for xGEO Space Domain Awareness
Aggarwal recalled, "My course was 'Astrodynamics for xGEO SDA'. Cislunar space is going to be the next gamechanger. It is important to comprehend and this course helped me understand how the trajectories in cislunar space can be devised beforehand so we can make the best of out of our missions. I am glad this course was offered this year."
Ellen Glad, Millennium Space Systems, recalled, "My short course was 'An Introduction to Event-Based Sensors for SDA: A Hands-On Tutorial'. I was able to step into a hands-on tutorial and hold a camera which I knew nothing about beforehand. This course and the whole EMER-GEN experience broadened my knowledge and understanding of the space industry."
Frances Zhu, Hawaii Space Flight Laboratory, noted, "I took the 'Observing and Characterizing Space Debris' course. It was really informative, and I learned a lot. The technical courses provide continuing education in cutting-edge issues. My course was totally outside of my field; however, now I feel extremely inspired and up to date."
Closing Comments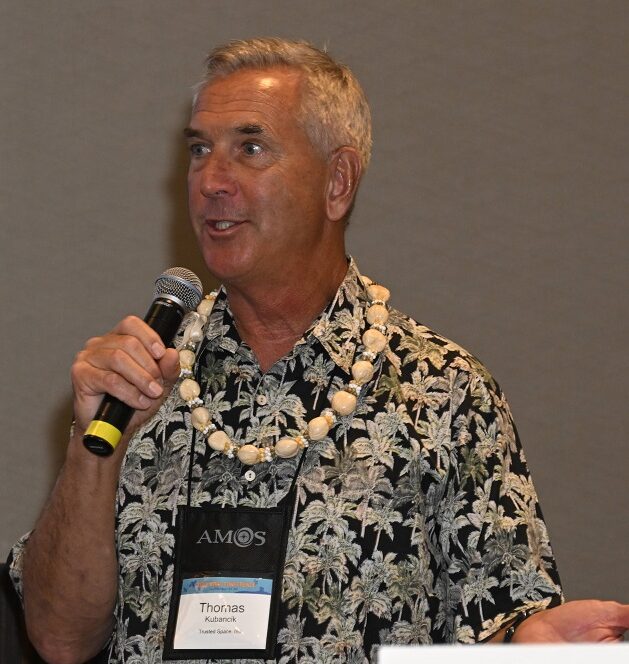 Tom Kubancik had the opportunity to give some closing remarks, "The depth of the technical and international talent and inclusion at EMER-GEN and AMOS is amazing! MEDB provides a complete package, a whole program that they amazingly put together. The passion people have for both events is incredible. It has a year-long affect. I have watched the program grow. They have done such a great job. This industry is growing. The topics are more important each year, and MEDB is prepared for these challenges."
Ellen Glad, exclaimed, "EMER-GEN is such a great experience! I knew it would be good, but it is even better. Everyone here is so passionate about what they do. I feel empowered and supported from EMER-GEN and AMOS."
Zachary Stein, Boeing Company, said, "EMER-GEN and AMOS both open me up to what other people are working on and what their interests are. Since I work in such a narrow field, it has been wonderful to receive a broader perspective."
Michael Barton, a.i. solutions, pointed out, "This is my 5th year at EMER-GEN! For me, it is a great way to connect with the future of the industry and meet the experts in the field. It is a challenging goal to have organizers, mentors, presenters, and a cohort from such diverse backgrounds to provide such interesting content. Over the years, mentors have helped me navigate my career and what I should be working on. The level of education provided at EMER-GEN and AMOS is high, thanks to MEDB."
Ashten Akemoto, University of Hawaii, noted, "I am attending EMER-GEN on a scholarship, for which I am extremely grateful. My takeaway is how the mentorship and networking at this conference introduced me to so many professionals from such diverse fields. It truly helped broaden my horizon of the space industry. I am so thankful to MEDB for this opportunity."
Willem Rood, Delft University of Technology Netherlands, stated, "Coming from Europe, I am thankful that MEDB has made me feel very welcome. It is like a big family here. At my university, SDA is not often spoken about, so I have experienced new topics of interest."
Yosef Ben Gershom, Hawaii Space Flight Laboratory, said, "This was my second EMER-GEN. I like meeting and connecting with new people to see how we can continue in a collective future. MEDB offers opportunities and helps bring more of the space business and industry to Hawaii. It is great to watch it grow."
Dominique Low, MDA Ltd., Canada, stated, "It was great to talk to so many people from different backgrounds in such a friendly and thoughtful atmosphere. MEDB made me feel welcome and I appreciate all the career and life advice I received from the mentors at this conference."
Imene Goumiri, Lawrence Livermore National Laboratory, USA/France, summed it up, "I have learned so much at EMER-GEN. The mentors offered priceless information and contacts that are so valuable to me. I did not have an opportunity like this ever before. I think it is great to hear about lessons that other people in the industry have had. I discovered so many different fields to learn about outside my own field of interest. The connections within the cohort and the mentors are priceless. Having so many people from different fields together, in one room, has been an exciting and eye-opening experience. There is no conference like this!"
The joint initiative of the AMOS Conference and SGAC, the EMER-GEN Program is supported in part by an Economic Development Administration (EDA) grant as well as by Celestial sponsor, Millennium Space Systems, and Leo sponsors Kayhan Space and Trusted Space.

SGAC, a global non-governmental, non-profit (US 501(c)3) organization and network, aims to represent university students and young space professionals to the United Nations, space agencies, industry, and academia. Headquartered in Vienna, Austria, the SGAC network of members, volunteers and alumni has grown to over 15,000 members representing more than 150 countries.
The AMOS Conference and EMER-GEN is presented by the Maui Economic Development Board (MEDB), a 501(c)(3) not-for-profit corporation established in 1982 with a mission to diversify Maui County's economy, building pathways to innovation, jobs and opportunity for our residents. Through partnerships with the public and private sector, MEDB undertakes projects that assists growth industries with navigating and thriving in our county, educates and trains residents for new careers, and engages our community in forums that determine future economic directions.