The 3rd Annual EMER-GEN® program, a joint initiative of the Advanced Maui Optical and Space Surveillance Technologies Conference (AMOS), and the Space Generation Advisory Council (SGAC), went virtual this year in response to the COVID-19 pandemic. Without the need for travel, the 2020 program, attracted a cohort of 37 participants from 13 countries across 13 time zones.
"EMER-GEN for young professionals builds on the capabilities and network of the AMOS Conference,' said Leslie Wilkins, MEDB President and CEO. "Discussions included views on effective multi-cultural communication and leadership qualities to international cooperation in space and the long-term sustainability of the space environment."
Designed especially for young professionals and students, the original two-day program has grown to include webinars before and after the main event with a focus on fostering innovation and entrepreneurship among the cohort. The EMER-GEN experience offered mentoring with renowned space specialists from the public sector, both military and civilian, private sector, and NGOs, plus networking with other young professionals. Specialists in Space Situational Awareness (SSA) and Space Traffic Management (STM) also presented a short course to upgrade technical skills and keep the cohort abreast of recent developments in fields of interest.
This year's EMER-GEN program was developed with the help of three young professionals on the planning committee, including two representatives from the SGAC, Quentin Verspieren, Intelligent Space Systems Laboratory, The University of Tokyo, and Michael Barton, a.i. solutions, Inc., and cohort member from 2018 and 2019. They were joined by Amber Imai-Hong, a member of the 2019 cohort and an avionics engineer with Hawaii Space Flight Laboratory.
Imai-Hong reflected, "With the help of mentors from industry, government, academia and NGOs, EMER-GEN was filled with critical-thinking exercises. The cohort came to understand how nations reach agreements, and how the objectives of different stakeholders enhance overall effectiveness in a global environment."
"Throughout all of EMER-GEN, delegates had many chances to network in small and large formats with either mentors, peers, or both," noted Barton. "The breakout groups helped the young professionals grow their networks. We are glad that we were still able to present EMER-GEN, even in a virtual format."
Verspieren added, "EMER-GEN aimed to engage the participants into active debates on numerous issues in space. Merging policy and technical considerations leveraged the multifaced expertise of the cohort. The result of this far exceeded our expectations."
Sandy Ryan, MEDB Conference Director, concluded, "We forged exciting new territory and our team developed a robust digital experience for our cohort. Contributing to the professional development of the upcoming space generation, EMER-GEN provided the opportunity to stay on the cutting-edge of industry trends while networking and cross-sharing knowledge within the SSA and STM community."
The 2020 Cohort were from Angola, Australia, Canada, France, Germany, Ghana, India, Japan, Mexico, New Zealand, Nigeria, United Kingdom and the USA."
Day 1 – Communication, Leadership and Culture
Whitney Hashimoto, Communication Professor, University of Hawaii Maui College led a presentation on Communication in Multicultural, Generationally Diverse Sector and Team Settings.
Hashimoto stressed the value of communication skills in international careers and everyday life – "Having an open mind is so important to having successful multi-cultural communication. "Learning basic interpersonal communication skills, such as public speaking, conflict management and business communication, is essential to becoming good communicators, both in careers and as productive members of society."
James Blake, University of Warwick said, "This session gave me insight into the importance of learning more about different cultures through active listening, patience, understanding, and empathy."
Josiah Faniyi, African University of Science and Technology, Nigeria, commented, "Our group discussed the importance of values being the roadmaps to different cultures, which will help us succeed in our international careers, as well as our everyday relationships."
Kyla P. Edison, Geology and Material Science Technician, PISCES (Pacific International Space Center for Exploration Systems), concluded, "Interacting with people of different backgrounds and nationalities is something I do often in my professional career. This exercise forced me to put a vocabulary on how to communicate with people; the most notable word being patience. I learned the importance of interacting with people of different backgrounds and how to approach them, and how interpersonal communication skills manifests in people and group dynamics."
Doug Loverro, Loverro Consulting, LLC and former Deputy Assistant Secretary of Defense for Space Policy, DoD followed up with a presentation on effective leadership qualities, the difference between positive and negative leadership, and how to deal with setbacks in leadership roles.
Loverro emphasized, "Whether they are managing a division, a team, or just a few employees, this session offered ways for participants to achieve the most by creating conditions for success."
The group participated in a break-out session to discuss qualities and behaviors of different types of effective leaders, and also for them to observe how leadership emerged in their own groups.
Abdu Abohalima, Australian National University, Australia/USA, said, "Although the collective list of leadership qualities is long, my group discussed these specific qualities for effective leadership; good communication, transparency, respect, diplomacy, resilience, being trustworthy, time management, and dedication."
Edison observed, "Everyone was asking good questions and making compromises. We combined all the qualities offered, then had discussions about which ones to choose. Overall, this was an inspiring exercise, showing me to think deeper about my interactions with people."
Imai-Hong added, "During our breakout group, we talked about the traits of a good and bad leader and came to a consensus very quickly. I thought it was interesting that although my group was diverse in background, both technical and ethnic, the traits we valued in a leader were similar and complementary."
"Some last thoughts are that everyone has a chance to be leaders and followers," concluded Loverro. "These qualities are timeless. We need to practice, and not be afraid. Know that you will fail and get better as time goes along."
Amber Imai-Hong led the 2020 cohort on a virtual field visit with tours of three space research facilities based in Hawaii – Hawaii Space Flight Laboratory, PISCES, and DKIST.
Imai-Hong noted, "We were able to highlight all the amazing science that native Hawaiians are doing here in Hawaii to share with our international cohorts. It was wonderful to showcase the three different labs on different islands, two of which would not have been accessible to our international cohorts had the conference been executed in-person."
1. Pacific International Space Center for Exploration Systems (PISCES): Presented by Kyla Edison, PISCES Geology & Material Science Technician
Edison explained, "PISCES is a state-funded Hawaii aerospace center under the Department of Business, Economic Development, and Tourism (DBEDT). Based in Hilo on Hawaii Island, the agency is working to position the state as a leader in space exploration while developing sustainable products and technologies that benefit the State of Hawaii and space exploration. PISCES provides hands-on work experience to Hawaii's future scientists and engineers, preparing them to meet the demands of a highly competitive industry while improving the local economy through job diversification, and new industries."
2. Hawaii Space Flight Laboratory (HSFL): Presented by Amber Imai-Hong, HSFL Avionics Engineer
"As a multidisciplinary research and education center, HSFL brings together individuals from diverse areas to work on the exploration and understanding of the space environment," said Imai-Hong. "HSFL enables the University of Hawaii to design, build, launch and operate microsatellites that can be configured for a variety of science and educational tasks among governmental, and corporate institutions interested in space exploration. Hawaii is located in a unique position to become a low-cost gateway to space and to place the University of Hawaii as the only university in the world to have both satellite fabrication capabilities and unique, direct access to orbital space."
3. Daniel K. Inouye Solar Telescope (DKIST): Presented by Amber Imai-Hong
Imai-Hong said, "DKIST represents a collaboration of 22 institutions, reflecting a broad segment of the solar research community. It is a scientific facility for studies of the sun at Haleakala Observatory on the island of Maui. DKIST is the world's largest solar telescope, with the special purpose of researching solar magnetic fields, and is set to revolutionize our understanding of the Sun."
"I discovered from the virtual tours that there is a vibrant high-tech eco-system in Hawaii contributing massively to American research and economy," commented Quentin Verspieren, researcher University of Tokyo.
Fatoumata Kebe, International Astronomical Union (IAU) Office for Astronomy Outreach, National Astronomical Observatory of Japan, added, "I did not know that much about space activities in Hawaii. Thanks to my participation in EMER-GEN and the virtual tours, I realized the strength of Hawaii in the space sector. I am interested in learning more about Hawaii's extraordinary assets."
Day 1 ended with a Hawaii Cultural Session with a presentation of the Hawaii Navigational Compass by Kala Tanaka, Navigator, Maui Voyaging Society
Tanaka's father, Kalepa Baybayan, is a master navigator, and was one of the original crew members of the legendary Hokulea voyaging canoe. In 1976, the Hokulea travelled from Hawaii to Tahiti, without modern instruments. In 2017, Tanaka crewed on the Hikianalia voyaging canoe from Hawaii to Tahiti, learning by experience, not a traditional textbook.
Tanaka said, "My choice to be a voyager was my own. The stars have always intrigued me from the first time I sailed. There was something about navigating that grabbed me. It was that feeling that I, as a person, as a human being, can have this connection with my environment if I would just open myself up to listen to it. I learned to sail using the Hawaiian Star Compass, a modern tool based on traditional navigation techniques developed by Master Navigator Nainoa Thompson."
Spaniard Noelia Martinez, who is studying at the Australian National University, reflected, "Day 1 of EMER-GEN made me picture myself surrounded by the stars in the middle of the ocean. Tanaka showed us the Hawaiian Star Compass during an amazing cultural talk. Having the opportunity to step out of our own bubble of professional achievement and look at the diverse world out there, felt extremely good. I cannot think of a better way to finish the first session of EMER-GEN than learning about the Polynesian culture."
Michael Barton, a.i. solutions, Inc., said, "Day 1 provided extraordinary Hawaiian technology, cultural exposure, technical skills development, and leadership skills with highly interactive mentoring throughout."
DAY 2: Career Opportunities in Space – Mentorship and Consensus Building
The EMER-GEN program offered professional development, panel discussions and mentoring with fifteen renowned space leaders from the public and private sector, military, civil, academia, and NGOs.
First a panel of five mentors discussed career opportunities responding to questions from the cohort and moderator Michael Barton. On the panel were Tim Flohrer, European Space Agency; Col Jennifer Krolikowski, U.S. Air Force; Tom Kubancik, Trusted Space, Inc.; Noelia Sanchez-Ortiz, Elicnor Deimos; and Charity Weeden of Astroscale U.S. The panel was followed by a speed mentoring session with delegates and mentors meeting in breakout rooms.
Tom Kubancik, founder and CEO of Trusted Space, Inc., has participated as a mentor in all three EMER-GEN programs. "Every one of the delegates was interested in making a difference; for themselves, for their country, and for moving the science forward. I was so impressed with how open and fearless they were in their discussions; they were such good communicators. It is key for them to focus on how well they give and receive, to be open, and to listen and process."
Kubancik added "I found the participants really stimulating and engaging. I was paired with Tim Flohrer of ESA and it was a good combination of perspectives. Preparing the future generation to deal with the current issues is important to the future of the space environment and industry."
First time mentor for EMER-GEN, Charity Weeden, Vice President, Global Space Policy, Astroscale USA, reflected, "The EMER-GEN program gives young professionals access. Early career mentorship is especially important; whether that be to leaders in government and industry, access to educational opportunities on technical aspects of SSA, or access to information on key programs that can help build their businesses, like the SBIR or STTR."
"It is important to let mentors help us to learn new ideas to benefit our knowledge," said delegate Martinez. "There is always a new technology language to learn, new data to receive. Eventually, we can also teach others."
Martinez continued, "During the Mentorship Session, I kept repeating to myself, "they used to be where we are, it has to be possible!" Breakout rooms with the cohort made me realize that I am not the only one struggling; worried about the long- term goals and changing fields. We all kept asking the same kind of questions to the mentors, who responded with honesty."
Fatoumata Kebe, International Astronomical Union, based in France said, "The mentoring session was a conference highlight for me. In fact, being put in touch with and mentored by renowned space specialists coming from the public and private sector, and NGOs, gave me a lot of energy to work harder to reach my goals. Finally, working virtually with other young professionals with different backgrounds was good training for me during this COVID time."
The second technical development activity on Day 2 was a Consensus Building Session led by Quentin Verspieren, researcher at the University of Tokyo and EMER-GEN 2020 delegate. With a focus on policy and technology, participants discussed the establishment of an international SSA data-sharing mechanism for verification and attribution – a topic that was also discussed by a policy panel on Day 3 of the AMOS Conference.
Verspieren pointed out, "The participants had the chance to have two experts, Dr. Brian Weeden from Secure Foundation and Diane Howard from the Department of Commerce, discuss the technical and legal aspects of SSA and other policy issues. The aim of this session was to engage the cohort in active debates on liability issues in space. The commitment, energy and knowledge of the participants provided us with a glimpse of what the United Nations COPUOS (Committee on the Peaceful Uses of Outer Space) could be in an ideal world."
Kyla Edison, PISCES, said, "The mentoring was the most important aspect of EMER-GEN to me because it was my chance to gauge if other people in the space community struggled with the things I do. Seeing that others have similar struggles, gave me more courage and confidence moving forward in my career and speaking to people."
Edison continued, "In the Consensus Building Session, the groups discussed matters of SSA; transparent sets of rules and regulations regarding satellites in shared space, particularly regarding military satellites. My belief was in favor of the need to know exactly what the purpose of each satellite was, and for them to share data to avoid malicious intent. However, I learned that national security would be at risk and there is no real way to police countries in shared space."
Day 3 – Emerging Nations and Hackathon
An Emerging Nationals Panel was moderated by Peter Marquez, Head of Global Space Policy, Amazon, United States. who said, "This panel offered interesting perspectives and interactions on what is currently happening in the international space community among active and emerging countries."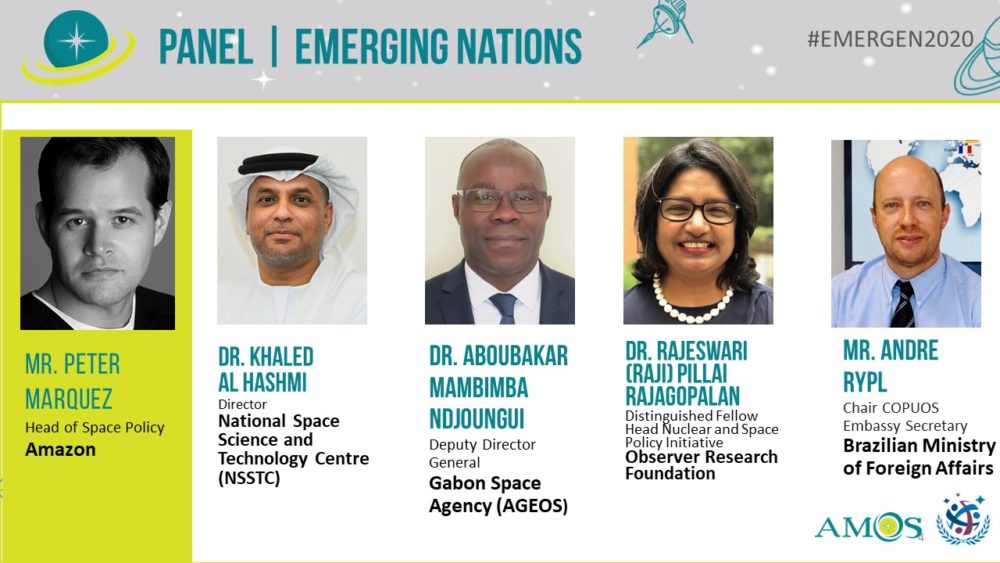 Panelists were:
Khaled Al Hashmi, Director, National Space and Technology Centre of the United Arab Emirates (UAE)
Aboubakar Mambimba Ndjoungui, Deputy Director General, Gabon Space Agency
Rajeswari Pillai Rajagopalan, Distinguished Fellow, Head Nuclear and Space Policy Initiative, Observer Research Foundation, India
Andre Rypl, Chair, United Nations COPUOS (Committee on the Peaceful Uses of Outer Space) and Embassy Secretary, Brazilian Ministry of Foreign Affairs
Dr. Rajagopalan said, "SSA is important to India's space activities and capabilities because, although we have been in the space business for a long time, we did not have the sufficient data we needed until last year. Currently, space is economically critical in economic development, navigation, communication and more. Many developing countries around the world are just beginning to appreciate what space can do to uplift the lives of their citizens. With space getting more crowded and congested, and plans for numerous private industries to launch thousands of satellites, SSA is going to be even more challenging and more critical in the coming years. India wants to work together with other countries to face the SSA challenges in the coming years."
"The Gabon Space Agency was created in February 2010," pointed out Dr. Aboubakar. "In the context of our climate policy and activities related to the monitoring of our natural resources, the evaluation of public policies, and the contribution of space to our economy, Gabon has thought it imperative to have an efficient space system. It is on this basis that Gabon has decided to create its space program by building infrastructure for direct reception, processing and archiving of satellite data."
Aboubakar continued, "We encourage young people to become interested in scientific disciplines, particularly space and astronomy. Through its space agency, Gabon has focused on building infrastructure that covers all of Central Africa and beyond."
Dr. Hashmi said, "I am passionate in leading the National Space Science and Technology Centre and committed to making a difference to support the UAE to achieve its sustainability and knowledge-based economy goals. We are effectively focusing on acquiring core capabilities in design and building of satellites, earth observation, planetary science, and critical and strategic technologies. We are collaborating internationally and working with strategic partners, universities, and research centers in the UAE and worldwide."
Dr. Hashmi emphasized, "I hope all the countries can collaborate together in controlling space debris or threats to the space environment. I believe that through compliance we will be able to achieve peaceful use of outer space. It is the obligation of all big satellite countries to engage the rest of the world in supporting the SSA activities. There is room for the smaller countries, if they do not have access to space, to contribute with their voice through the United Nations or other organizations."
Rypl stated, "In Brazil, because of our location, SSA is especially active in space weather and we share that information. Sharing is an essential characteristic of our space program. The UN COPUOS Long-Term Sustainability Guidelines are the visible and concrete result of many years of negotiations and efforts. The guidelines provide a framework of important principles and procedures that each country can adopt to ensure that space remains sustainable and accessible for more and more countries in the future."
Rypl concluded, "There is a huge and ever-increasing reliance on space technology in our everyday lives. We often take for granted that we are using space technology for our daily needs such as mobile and smartphones, maps, traffic apps, emails, messaging, and the web. Also, for medicine, monitoring disasters, nature and the environment, these too are very much dependent on space technology. So, the contribution of guidelines, for all nations and stakeholders, is enormous because of this interdependency of vital everyday systems."
"The Emerging Nations Session gave us the chance to widen our views on SSA by going beyond the American-centered nature of SSA discussions," remarked Quentin Verspieren who helped to put together the session. "Peter Marquez skillfully moderated this panel by having the perspective of actors from other countries that receive and use SSA data from partners, or are trained to establish these capabilities. We had experts from established space powers and an emerging nation, who are concerned with the current space environment. We spent a lot of effort to carefully craft this panel in order to incorporate the views of countries with different geographies, histories, levels of development, and approaches to space development and utilization. It was truly fascinating!"
Imai-Hong noted, "Hearing their perspective and concerns was interesting for me as a spacecraft designer. We are typically concerned only that our spacecraft functions the way we expect it to. This forum provided a global perspective on several international issues that align with the Consensus Building activity."
Following the Emerging Nations panel, the cohort broke out into teams to work on Small Business Innovation Research (SBIR) projects as part of the 2020 EMER-GEN hackathon. Teams had been formed through two pre-event webinars.
"The Hackathon that we did was made possible thanks to the advice from experts who have been successful in winning SBIRs from NASA and other agencies in the U.S. government," said Quentin Verspieren. "I am extremely proud of the SBIRs produced by the cohort in this session."
Kyla Edison, PISCES, said, "I was most excited for the hackathon because I was eager to learn more about STTRs and SBIRs. This was a fantastic opportunity to confidently pose my ideas, and work with a group of like-minded individuals my own age. My team worked hard and consistently throughout the entire three hours we were given and gave a comprehensive presentation. Our idea was centered around a software algorithm for a preexisting ISRU (In-Situ Resource Utilization) mining rover that would prospect, target, and characterize an area for possible ice extraction, with the end goal of mining hydrogen and oxygen for rocket fuel propellent."
Gerry Smith, MEDB Director of Business Development, emphasized, "I was amazed at what the EMER-GEN teams put together in such a short time, especially for their SBIRs. They literally are rocket scientists! The other thing that was amazing was that the teams were collaborating all over the world, from many different time zones. Having EMER-GEN on-line enabled great cultural diversity among the young space professionals."
CONCLUSION
EMER-GEN fostered international collaboration among the cohort as they shared their projects throughout the event and made lasting connections with each other. Participants were also exposed to a technical short course, which served to expand technical job skills and support developments in respective fields of interest.
Leslie Wilkins, MEDB President and CEO commented, "What incredibly dynamic, thoughtful, creative, and innovative recommendations our 'Dream Team' of three young professionals made on this year's EMER-GEN planning committee. Quentin Verspieren, Michael Barton, and Amber Imai-Hong delivered on the content of interest which was engaging and purposeful for the 2020 Cohort in the larger space conversation. It made our conference so successful!."
Michael Barton, a.i. solutions, Inc., reflected, "I want to thank all the mentors for sharing their wisdom on cross-cultural communication, leadership, and career development. During the interactive breakout sessions the participants learned from each other as well. Additionally, we got to meet with international mentors from across the industry to ask questions in a speed-mentoring format. Thanks to MEDB, SGAC and our sponsors for providing the cohort with a successful development program."
Kyla Edison, PISCES, said, "Overall, EMER-GEN taught me more than I expected. I feel refocused to improvement within the agency I currently work for. EMER-GEN is great because you do not learn these types of career skills in college. It is a valuable experience that I hope to be a part of again in the future."
Amber Imai-Hong, Hawaii Space Flight Laboratory stated, "Planning a remote EMER-GEN conference definitely introduced challenges and forced us to pivot in many aspects; however, I thought that the MEDB team did an excellent job of creating and utilizing the breakout rooms to ensure that the cohort were able to successfully network with each other and the mentors. Although the aesthetic of EMER-GEN was different, I felt like I had the opportunity to interact and connect with more of the cohort than I did last year. An added benefit to having a virtual conference was that we had a more diverse cohort with more countries represented. This helped me to better understand the global perspective and concerns of the young professional SSA community. I also appreciated being able to showcase the work that I do at HSFL and put Hawaii on the map as geographically advantageous for many space applications."
Imai-Hong concluded, "I am so grateful for the opportunity to help plan EMER-GEN and to attend AMOS this year. The resilience of the MEDB team was highlighted and very much appreciated during this pandemic. I have already started to implement some of the lessons I learned from the communication and leadership workshops and the mentoring session in my HSFL projects and with my student teams. I cannot wait to see what EMER-GEN looks like next year!"