The 22nd, and first hybrid, Advanced Maui Optical and Space Surveillance Technologies (AMOS) Conference returned to Maui in September to help foster important dialogue and international collaboration on the current space environment. This comes at a time when global space security and the commercial space industry are rapidly changing. Presented by Maui Economic Development Board (MEDB), the AMOS Conference is known as the premier technical conference in the nation devoted to Space Situational Awareness (SSA), Space Domain Awareness (SDA), and Space Traffic Management (STM).
"We are proud that AMOS continues to be a vehicle for the advancement of SDA and international collaboration." said Sandy Ryan, Conference Director for MEDB, said, "Our team pivoted and flexed as we literally planned two separate conference experiences — one for the 668 in person attendees and a separate one for the 406 who attended virtually. The AMOS week is an all-hands-on-deck affair for MEDB and a year-long effort for our core team who started the planning process for 2022 the next day."
The conference attracted over 200 technical papers this year, with authors from 19 countries, with169 of these selected for oral and poster presentations. The 2021 Technical Sessions included Astrodynamics, Atmospheric and Space Weather, Cislunar SSA, Conjunction/Rendezvous and Proximity Operations, Dynamic Tasking of Sensor Networks, Machine Learning for SSA Applications, Non-Resolved Object Characterization, Optical Systems and Instrumentation, and Space Situational and Domain Awareness. Presented papers are peer- reviewed for publication in the 2021 Journal of Astronautical Sciences, and on the last day of the conference the American Astronautical Society (AAS) recognized outstanding efforts by presenting awards.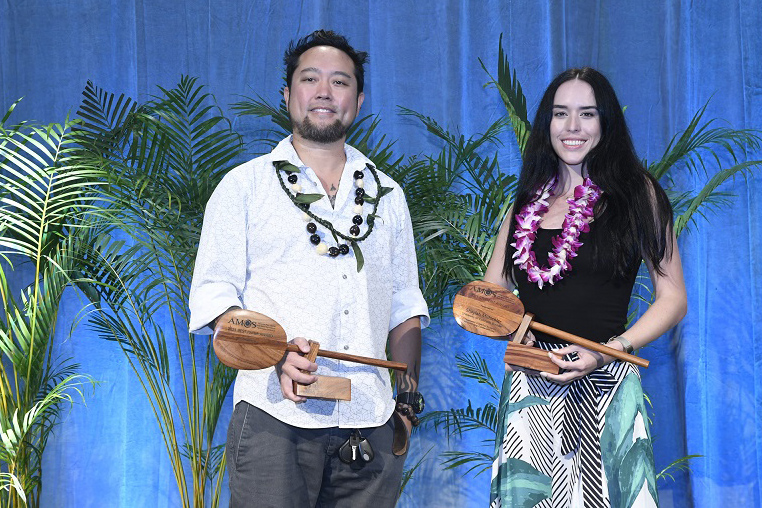 The AMOS Conference Best Paper Award was presented to C. Channing Chow II, Ph.D., founder and CEO of Cloudstone Innovations LLC, for Cislunar Orbit Determination Behavior: Processing Observations of Periodic Orbits with Gaussian Mixture Model Estimation Filters.
Chow reflected, "On behalf of myself and my coauthors, we were honored to receive the 2021 AMOS Conference Best Paper Award. We are humbled to be selected amongst a host of such high-quality papers. The AMOS Conference brings together a truly unique juxtaposition of academia, industry, and government working collaboratively towards space safety, security, and exploration. Every year AMOS provides the opportunity to share innovative concepts, challenge stagnant norms, and showcase the latest advances in research and development."
The AMOS Conference Best Student Paper Award was presented to Shaylah Mutschler, University of Colorado (Boulder), for Application of SoleiTool for Density Estimation using CubeSat GPS Data.
Mutschler said, "The vision of my work is to harness CubeSat populations as indirect sensors to estimate parameters of the space environment. I am humbled to receive the Best Student Paper Award. I have been coming to AMOS since 2013. Many of the people I met here were instrumental in my going to graduate school for aerospace engineering. AMOS planted the seed for my entire career, and my EMER-GEN experience this year has taken me even further. Thank you AMOS and AAS for this honor!"
Paul Kervin, AMOS Conference Technical Chair, said, "We have been working closely with AAS for several years. The collaboration has added to the quality of AMOS is several ways. One of those ways is the technical award process. We have a rigorous and in-depth review that involves dozens of AAS members, experts in government, academia, and industry, in both the evaluation of papers and the determination of the Best Paper and Best Student Paper Awards."
In addition to the technical sessions, the conference featured keynote speakers, SSA policy forums and technical short courses. All in-person attendees had access to the virtual platform to view pre-recorded technical sessions and poster presentations, as well as to visit the virtual exhibit hall. Networking has always been one of the most important aspects of the AMOS Conference for all attendees, and this year's hybrid format ensured plenty of opportunities for informal meetings, both in-person and virtual.
Marcus Holzinger, University of Colorado Boulder, reflected, "This is my 12th AMOS Conference. It is the best forum for SSA, STM, and SDA because it has such excellent representation between nations in academia, government, and industry. That participation allows real conversations to happen between attendees, which leads to critical work getting done. AMOS is strong on inclusive international cooperation, which is key to space sustainability."
Preceding AMOS, the 4th annual EMER-GEN® program for young professionals and students enthusiastic about careers in space took place over two and and a half days. A joint initiative of the AMOS Conference and the Space Generation Advisory Council (SGAC), the program was in-person and was preceded virtually with a series of webinars. A short briefing focusing on the innovation and entrepreneurship among the EMER-GEN cohort was featured on Day 2 of AMOS. Read more on EMER-GEN 2021
Student Space Day at AMOS, the popular event for Hawaii's STEM (science, technology, engineering, mathematics) students, drew over 350 youth in grades K-12 to view a video and talk by NASA Astronaut, United States Space Force Col. Michael Hopkins, who attended AMOS in-person. Presented by MEDB's STEMworks™ Program, the livestream event ran parallel to AMOS on the last day of the conference and featured Hopkins' time on the International Space Station. Read more on Student Space Day.
Dates have been set for 2022 with the AMOS Conference scheduled for September 27-30, preceded by the EMER-GEN Program on September 25-27.
Technical Short Courses
Prior to the plenary program, AMOS kicked off with 10 in-person and four virtual technical short courses in various SSA-related disciplines. Presented by highly regarded industry experts and specialists in SSA, the courses provided opportunities for working professionals to upgrade their technical job skills and remain abreast of recent developments.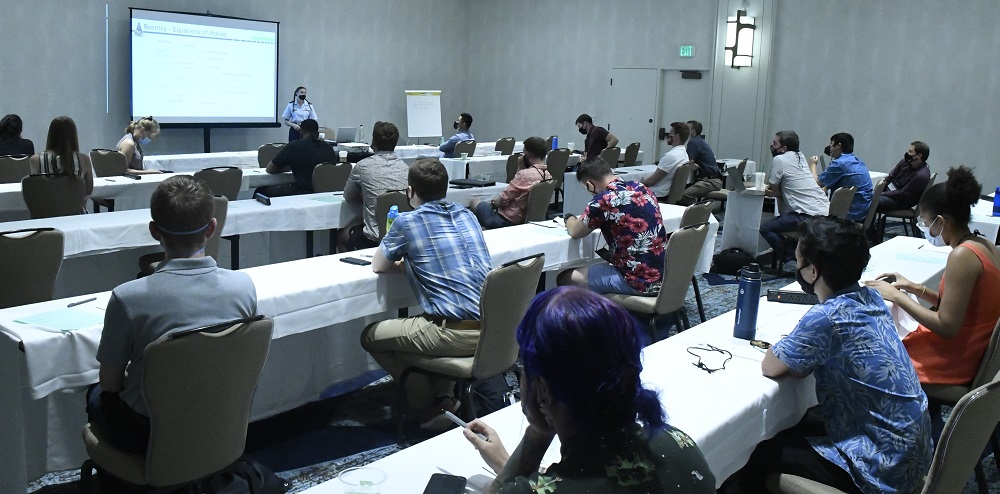 The 2021 topics included Introduction to ESA's Space Debris Software Tools; Observing and Characterizing Space Debris; Polarimetry; Telescopes and Optics for Ground-Based Optical SSA; Conjunction Assessment Risk; Deep Learning Methods for Space Domain Awareness; Optical Systems Modeling and Simulation; Statistical Orbit Determination for Space Surveillance and Tracking; Supervised Learning: Review and Applications with Real SDA Data; Demystifying Machine and Deep Learning; How to Kill Your Own Satellite; Next Generation Data Management for Space Data; Space Weather Impacts on Near-Earth Space Operation; and The Dynamic Co-Evolution of Space Policy and Technology: Historical Overview and Lessons for Assessing Future Trends.
Mariel Borowitz, Associate Professor, Sam Nunn School of International Affairs, Georgia Institute of Technology, said, "The course on Conjunction Assessment Risk at AMOS provided an overview of the technical concepts and processes that underlie efforts to determine whether objects in space are at risk of colliding. The course did an excellent job of covering everything from abstract concepts to specific technical debates at a level that was accessible to people with a wide range of backgrounds. The ideas covered in the course came up repeatedly during AMOS, allowing me to engage more deeply with the conference presentations."
Christine Dubbert, York Space Systems, said, "I took the short course The Dynamic Co-Evolution of Space Policy and Technology: Historical Overview and Lessons for Assessing Future Trends. As a history lover, I really enjoyed the opportunity to dive into the past of space policy and see what lessons we can learn from that in order to create a better future."
Kalila Philips, Hawaii Space Flight Laboratory, said, "The short course, How to Kill Your Own Satellite, was the perfect blend of explanations about why you need to kill your satellite; the growing threat of space debris, and the basics of space law to carry out satellite operations. It was interesting to learn about the end-of-life plans for each orbit and when space debris would re-enter our atmosphere before burning up."
Wes Faber, L3Harris, said, "The technical content of the conference continues to improve year after year. This is shown by the growing number of cutting-edge technical short courses and paper submissions. What speaks volumes to the quality of technical content is the high attendance in the technical courses and sessions. Another fantastic year in the books and I am very much looking forward to participating again next year."
DAY 1
Secure World Foundation (SWF) provided guidance in organizing relevant and critical panels that featured policy-makers and thought-leaders from industry, military, and academia. Each day the conference began with a keynote address followed by a SSA policy session.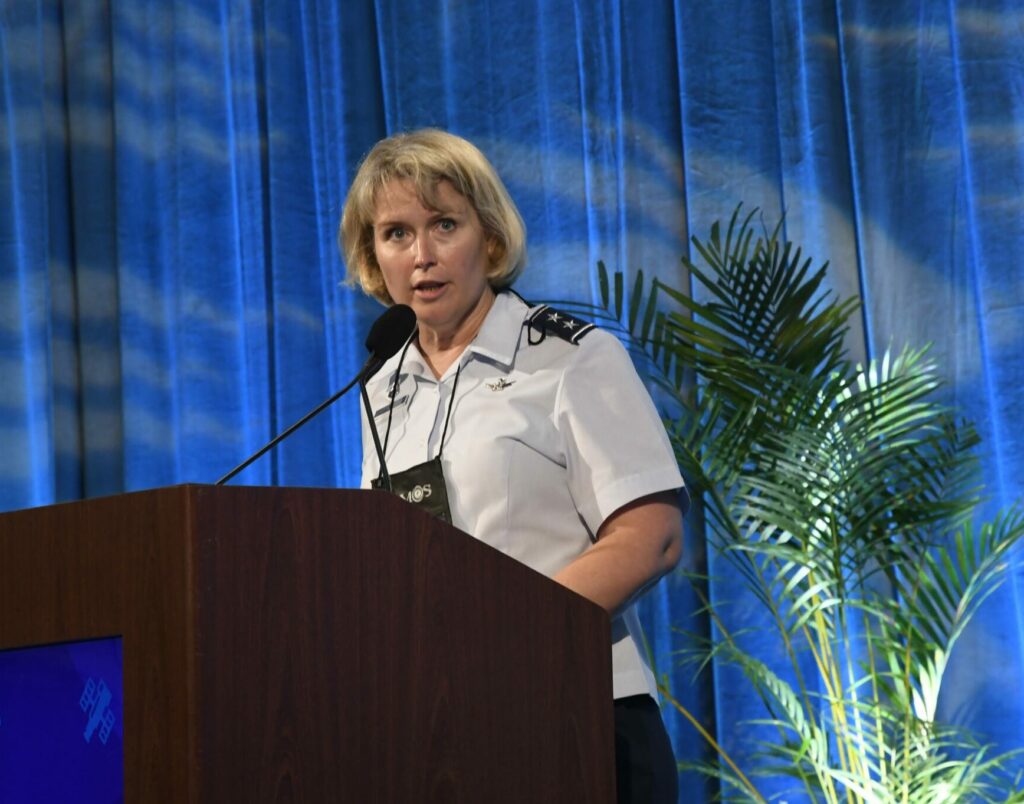 Major General DeAnna M. Burt, Commander, Combined Force Space Component Command, United States Space Command, and Vice Commander, Space Operations Command, United States Space Force (USSF) provided the opening keynote presentation.
General Burt advocated for the development of commercial systems for removing space debris. The Space Force goal, to keep the space environment safe for government and commercial satellite owners, includes removing space debris, or as Burt said, "We need to make debris go away, we need trash trucks!" Currently, there are approximately 34,000 objects on orbit being tracked, with only about 7,000 of those being active satellites. The number of launches continues to grow.
Burt said, "The USSF mission is serious and we need to be prepared for all and any threats in the space domain. Our abilities are limited if there is a threat of collision between two non-maneuverable objects, like debris. We need to make the debris go away and industry can do it best. The development of commercial orbital debris removal systems is vital, and should not be done by the military, which could appear as a threat to disable active satellites. We definitely need more space debris removal technology, sooner rather than later. These devices can alleviate congestion in Earth orbit without the regulation difficulties that a government-controlled alternative might have."
Burt added, "The critical mission is to keep space safe for all stakeholders. My goal at AMOS is to provide the warfighter focus on why this mission is important, and how it is changing and growing rapidly. We need commercial, civil coalition, and international partners on the stage talking about those norms of behavior in space and what that means for everyone else. This will allow us to focus on SDA, which could translate into battlespace awareness and how we would fight and win in a war that extends to space. We need new rules and government action to address this issue. The expertise in this room will get us there."
Special Inaugural Award Presentation
Major General Burt presented The Space Data Association's (SDA) T. S. Kelso Award for Space Safety to its first recipient, T.S. Kelso himself. The SDA recognized Kelso for his outstanding contributions to space flight safety. Burt said, "I am delighted to present this award from the SDA to Kelso for his diligent work to promote safe operational practices for all stakeholders."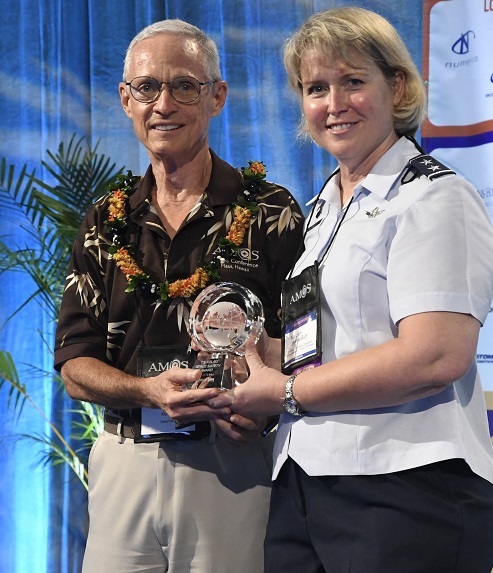 The T. S. Kelso Award for Space Safety will be presented annually to recognize vital contributions and applications that enable safety and sustainability in the space environment.
Kelso explained, "The Award recognizes the culmination of over 17 years of work to build a framework for international collaboration that ultimately became the Space Data Center (SDC) 11 years ago. Prior to my retirement, my duties as SDC Operations Manager gave me the daily opportunity to support satellite operators like NASA, NOAA, EUMETSAT, Intelsat, SES, Inmarsat and dozens more. I tracked over 700 satellites for close approaches with other satellites and debris in Earth orbit. As the space community discusses how to build a future Space Traffic Management system, I take pride to have been part of the SDC team that enhances safety of flight and protects the space environment.
While Kelso is retired now and is no longer directly working with the SDC, he will continue to operate and enhance CelesTrak, the world's first private source for orbital element sets, related software, and educational materials. The site supports everyone from professionals operating satellites in orbit, to faculty, students, and other researchers investigating the space environment; to individuals who just want to go out to see the space station pass over.
SSA POLICY FORUM: Lessons Learned from Recent Satellite Servicing Missions
In April 2020, the first commercial satellite servicing mission successfully docked with a satellite in GEO, followed by the second GEO docking in March 2021. In addition, there is a planned orbital debris removal demonstration in LEO in mid-2021. This panel discussed these recent commercial satellite servicing missions and demonstrations, how existing SSA capabilities were able to monitor and support them, the lessons learned for conducting future servicing missions, and future SSA requirements.
Moderator Dr. Brian Weeden, Director of Program Planning, Secure World Foundation was joined on stage by panelists: Joseph Anderson, Vice President of Operations and Business Development, SpaceLogistics;4; Mike Lindsay, Chief Technology Officer, Astroscale; and Lt. Col Alfred Maynard, Commander, 20th Space Control Squadron, United States Space Force. Fourth panel member, Ralph Dinsley, Executive Director, Northern Space & Security Ltd. (NORSS), joined the conversation via Zoom.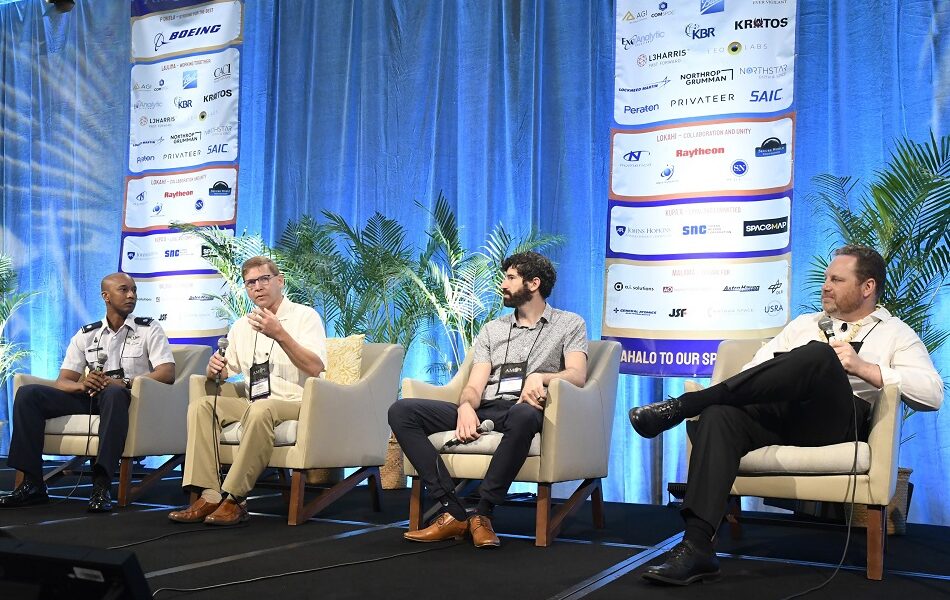 Weeden said, "In the last year we saw the first commercial demonstration and operational missions for satellite servicing. At the same time it raises questions about how existing SSA and SDA capabilities will be able to support these activities, and provide monitoring and verification to all stakeholders in the system."
Anderson noted, "Pioneering a new market in space, SpaceLogistics, a wholly-owned subsidiary of Northrop Grumman, currently provides in-orbit satellite servicing to geosynchronous satellite operators using the MEV ( Mission Extension Vehicle). MEV docks with customers' existing satellites providing the propulsion and altitude control needed to extend their lives. This enables satellite operators to activate new markets, drive asset value and protect their franchises."
Dinsley emphasized, "It is vital to orchestrate significant policy improvements while successfully engaging with UK and international military, government and industry. We need to ensure sustainable access to space for all to explore emerging opportunities supporting the international space community. At NORSS we empower industry and academic use of space. Outer Space is vital to all of us, but it is filling up. Therefore, we are campaigning for the sustainable use of space and the development of space governance. We are working on SSA standards by developing and coordinating international collaboration through awareness and competence."
Lindsay commented, "Astroscale is the first and only private company with a vision to secure the safe and sustainable development of space dedicated to on-orbit servicing across all orbits. The company successfully tested its ability to capture a client spacecraft, release and re-dock it, using the magnetic capture system."
Lindsay added, "We are developing innovative and scalable solutions across the spectrum of on-orbit servicing, including life extension, in situ space situational awareness, end of life, and active debris removal, to create sustainable space systems and mitigate the growing and hazardous buildup of space debris. Astroscale is also defining business cases and working with government and commercial stakeholders to develop norms, regulations, and incentives for the responsible use of space."
Col. Maynard commented, "The Space Surveillance Network monitors and observes these first-ever servicing activities and experiences. From the military perspective, it gives us the ability to sit down with our commercial partners to see what went right or wrong. It is vital to use commercial and military data to better support us in terms of conjunction assessment missions; making sure we do not have any collisions in space. Communication is key."
Featured Presentation
Doyle Hall of Omitron Inc, gave a presentation on Semi-Empirical Metrics to Measure the Effects of Satellite Mega-Constellation on Astronomy. "The growing number of satellites streaming through LEO is making it almost impossible to get a clear view of the sky," he shared. "The true threat these mega-constellations pose to the astronomy community is only just beginning to be understood. We are considering many options to make the satellites less reflective."
Hall added, "For the astronomical community, constellations can interfere with ground-based astronomy, and metrics are required to quantify the severity of the effects. Advice from the NASA Conjunction Assessment and Risk Analysis (CARA) Handbook is, If the constellation, given its population, orbit, and constituent satellites, is likely to affect ground-based astronomy, reassign the satellite orbits or modify the satellite construction to eliminate this effect. To that end, we are evaluating the potential light pollution from constellations and estimating pre-launch brightness using ground-based observations of analog satellites."
INVITED TALK: The Space S&T Challenges from LEO to Cislunar
Col. Eric Felt, Director, Space Vehicles Directorate, Air Force Research Laboratory returned to the AMOS stage accompanied by Col. Joseph Roth, Director, Innovation & Prototyping, Air Force Space & Missile Systems Center. Taking a walk through history, using Pan Am as one example, the two Colonels presented a look at how industry and government have worked together in partnerships throughout the years. Commerce in space is rapidly emerging with new challenges to solve together.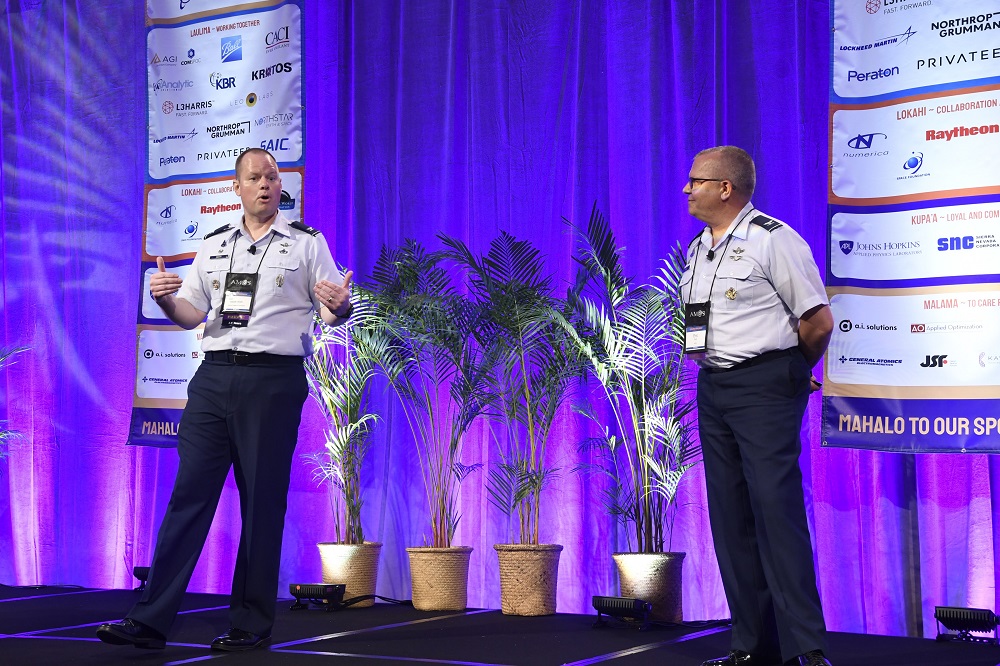 Col. Roth said, "Challenges in the air domain have parallels in the space domain. Pan Am had a great working relationship with the government when the war broke out. They actually trained almost all of our navigators that were in the service during WW2. There was a real partnership with industry, government, and the military to solve the technology challenges to get across the Pacific."
Roth added, "Today we are working with industry to bring science and technology real protypes that can go on to operational systems. If past is prelude, the U.S. Space Force mission will include protecting, defending, partnering, and supporting these expanding space lines of communication. History tells us that we can do it, we have done it in the past, and now is yet another defining moment for us."
Col. Felt explained, "The key thing to know is that space is being driven by economics, with a lot of commercial industry. In the global economic content, space economics is an important part of the equation moving forward. Economic growth and new missions that are coming are all driving our SSA challenges. Lunar missions are planned and are already happening. Cislunar economy is enabled by domain awareness, patrol and safety-of-navigation services. It is difficult to track the position and intention of objects operating in cislunar space, and that is one of our current primary space-related challenges."
Felt noted, "The further you get away from the earth, the more valuable replenishment space logistics are; servicing, refueling, and all those capabilities are enablers allowing us to go beyond GEO. Significant science and technology advancements are needed, and underway, to enable the Space Force to protect, defend and support, especially beyond GEO."
DAY 2
The second day was kicked off with a keynote address by Colonel Scott D. Brodeur, Director of the National Space Defense Center and Director of Operations, Joint Task Force Space Defense (JTF-SD), United States Air Force. The JTF-SD mission is unified action with partners to deter aggression, defend capabilities, and defeat adversaries throughout the conflict continuum in order to gain and maintain space superiority.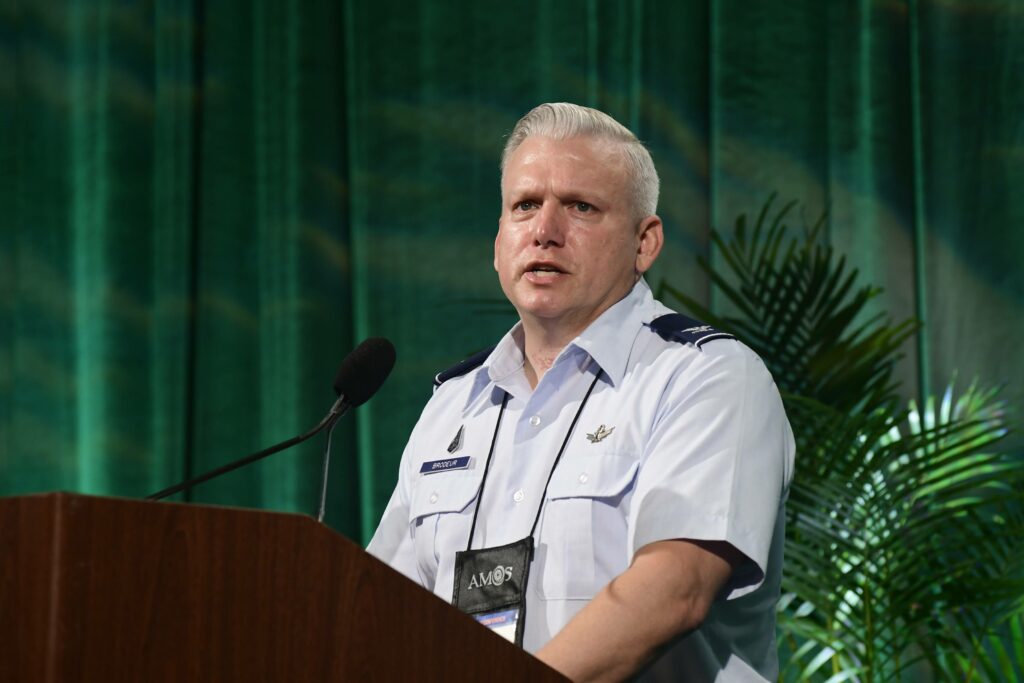 "The potential for a conflict in space has never been greater," said Col. Brodeur. "Space is acknowledged as a warfighting domain because our adversaries have threatened it. In 2007 China demonstrated an anti-satellite weapon that created debris that is still causing issues. The Russian tests of a 'nesting doll' satellite, where one satellite released another with a kinetic kill mechanism, creates a huge problem. Our job is to protect and defend U.S. capabilities to maintain a competitive advantage in space."
Brodeur pointed out, "Presently, we need accurate and trustworthy data in seconds, and we need more space-based sensors. The militarization and weaponization of space is a portion of the threat. We have hurt ourselves in the past by over-classifying military space capabilities. Reducing classification will contribute to a united effort to protect, defend, and deter hostile actions in space."
SSA POLICY FORUM: Large Constellations and Right-of-Way in Space
Current practice leaves it up to individual operators to access the risk threshold for an avoidance maneuver to prevent potential collisions and who will—or should—perform it. As the deployment of mega-constellations in LEO continues, there will be an increasing number of close approaches between satellites from different constellations or operators with different risk criteria, maneuver protocols, and potentially competing interests. This panel discussed the right-of-way for satellites and other potential solutions to mitigate this problem and improve the coordination and resolution of close approaches in space.
Moderated by Daniel Porras, Secure World Foundation (SWF) Director of Strategic Partnerships and Communications; the panel included: Emmanuelle David, Executive Manager, EPEL Space Center; Zack Donohew, Scholar in Residence, Leeds School of Business, University of Colorado Boulder; David Goldstein, Principal Guidance Navigation and Control Engineer, SpaceX; Dan Oltrogge, Director, Integrated Operations and Research, COMSPOC Corporation; and Ruth Stilwell, Executive Director, Aerospace Policy Solutions LLC.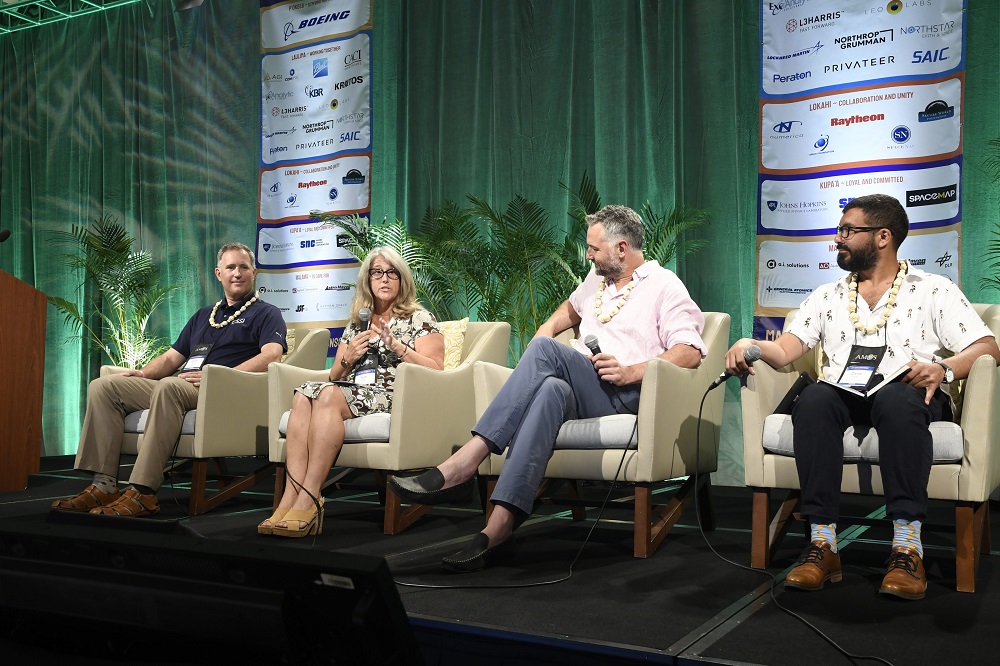 Oltrogge said, "There is little consensus on collision avoidance criteria and thresholds. As a global space community, we need to get to a state where SSA resources such as crowd-sourced space data exchange, international standards, commercial best practices, analytics, and advanced sensors are all brought together to form the best, most accurate and timely system. A solution COMSPOC proposes is data fusion, where the freely available SSA data from the U.S. government is combined with other data, such as the operator's own knowledge of its satellites, as well as commercial SSA data. By blending these together and factoring in the operator's planned maneuvers and the operator's spacecraft dimensions, we are able to get a much better picture of what is going on. We can get very close to meeting those accuracy requirements and an effective SSA and STM system."
Stilwell explained, "For right of way, the regulatory framework is please don't crash your satellite, and really please don't crash it into somebody else. What is needed is a network of satellite operators that can self-organize and agree upon standards for determining which satellite has the right of way."
Goldstein commented, "Satellite operators are still working out what sort of priority rules should be in place to determine who would maneuver, when two satellites can both do so. Maneuvers come at a cost to satellite operators, expending propellant that affects their lifetime and perhaps causing them to temporarily interrupt service. SpaceX is willing to take responsibility for maneuvers. We have signed many agreements with stakeholders for good working relationships in this area. We look forward to continued conjunction assessment collaboration."
Emmanuelle David pointed out, "Several close approaches of satellites in recent years, in some cases exacerbated by disagreements or communications breakdowns between satellite operators, demonstrate the lack of guidelines today and the need to develop them as mega-constellations proliferate. We joined the Space Sustainability Rating, an international initiative that seeks to foster voluntary action by satellite operators to reduce the risk of space debris, on-orbit collisions and unsustainable space operations. The Consortium brings expertise and understanding of the role of emerging countries and private actors in the space sector. Communication is needed across all barriers."
Donohew added, "The need for maneuvers can create an incentive for bad behavior to avoid certain costs. It is another aspect why building norms of behavior is so important. We can find ways of social disapprobation for bad actors through rating systems like the Space Sustainability Rating, developed by an international consortium."
EMER-GEN® Briefing
The EMER-GEN program, hybrid this year, featured mentoring sessions with renowned space specialists, along with professional development sessions designed to enhance the young professionals' effectiveness in a global environment. A number of pre-event webinars helped the cohort prepare for the on-site program. Christine Dubbert, a Project Engineer with York Space Systems, and member of the EMER-GEN Planning Committee, was joined by Zachary Stein, a Lead Mechanical Engineer with Boeing on Maui, to give the presentation on this year's activities.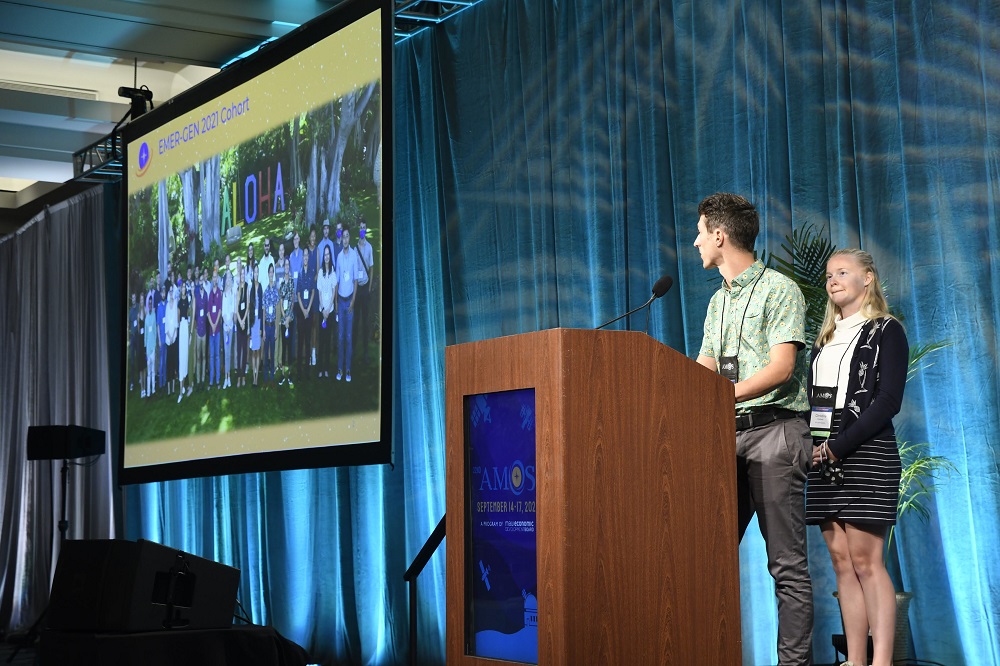 Dubbert explained, "As a national point of contact for SGAC, I have a chance to shape future policy and see firsthand the way industry is going. EMER-GEN, in line with SGAC, fosters greater collaboration across the various sectors of the space industry and supports the continued development of a peaceful, inclusive, and global space community."
Zachary Stein, Boeing, noted, "We had the opportunity to talk to a group of mentors from across the industry who shared their expertise. Our Consensus Building session was a mock UN style discussion, representing different government agencies for a consensus recommendation for President Biden to take to a G7 meeting. We formed mock teams of government agencies working from different perspectives on what to do about anti-satellite weaponry."
Stein added, "The Hack-a-thon premise was to create a Small-Business Innovative Research (SBIR) proposal. It was great to work with professionals to identity a problem and come up with a solutions. The winning team, Locus Project, provided a proposal for monitoring cislunar space, a key issue in today's space environment."
Featured Presentation: The National Science Foundation Daniel K. Inouye Solar Telescope (DKIST)
Thomas Rimmele, Director, DKIST National Solar Observatory, gave this presentation in which he said, "DKIST, the world's largest optical/infrared solar telescope, will revolutionize our ability to measure, understand, and model the basic physical processes that control the structure and dynamics of the Sun and its atmosphere. The first-light DKIST images, released publicly on 29 January 2020, only hint at the extraordinary capabilities that will accompany full commissioning of the five facility instruments."
"The primary goal of the DKIST is to address long-standing problems in solar physics, such as the operation of the solar dynamo and the heating and acceleration of the solar chromospheric and coronal plasma. However, its scientific impact will extend well beyond the Sun. DKIST data will contribute to our understanding of fundamental physical processes. We hope to recognize the underlying physics well enough to improve models and predictive capabilities. It took 25 years to get to this point, and we hope to conclude the final structure by November 2021. There were many challenges and many people working on this project."
DAY 3
The keynote on the final day of AMOS 2021 was given by Dr. Carine Claeys, Special Envoy for Space , Head of the Space Task Force, European External Action Service.
"Multilateral diplomacy is vital." said Claeys. "We need to build a common understanding worldwide of the challenges, opportunities, and threats of activities in outer space while preserving the safety, security and sustainability of the domain. It is urgent to act together for the benefit of all, today and for future generations."
Claeys added, "In December 2020, the UK proposed the United Nations General Assembly Resolution 75/36, Reducing Space Threats Through Norms, Rules and Principles of Responsible Behaviors. This resolution encourages member states to study and submit their views on existing and potential threats and security risks to space systems. Member states also submitted their ideas on norms, rules and principles of responsible behavior for safe space operations. Thirty countries have formally submitted reports, including the United States, Russia and China. The developed framework of the UN Resolution 75/36, along with the UN Outer Space Treaty, remains the cornerstone of global governance in space. This is really the beginning of a process of common understanding of transparency and confidence-building to which the European Union (EU) and its member states grant their full support. The EU is focusing on their relationship with the other actors involved in the definition and implementation of EU space policy."
SSA POLICY FORUM: Results of the Recent UN Resolution on Norms of Behavior in Space
following on Dr. Clarine Claeys keynote, this panel discussed the inputs from governments and civil society and what it means for future multilateral discussions on space security. They noted how SSA can help reduce misperceptions and misunderstandings to increase the transparency of space activities.
Moderator Ms. Victoria Samson, Secure World Foundation Washington Office Director, was joined by an all-virtual panel with Eric Desautels, Acting Deputy Assistant Secretary of State for Emerging Security Challenges and Defense Policy, Bureau of Arms Control, Verification and Compliance, United States Department of State; David Edmondson, Policy Head, Space Security and Advanced Threats, Security Policy Department, United Kingdom Foreign, Commonwealth and Development Office; Audrey Schaffer, Director for Space Policy, National Security Council; Jessica West, Senior Researcher, Project Ploughshares; and Wen Zhou, Legal Adviser, Arms Unit, International Committee of the Red Cross. (ICRC).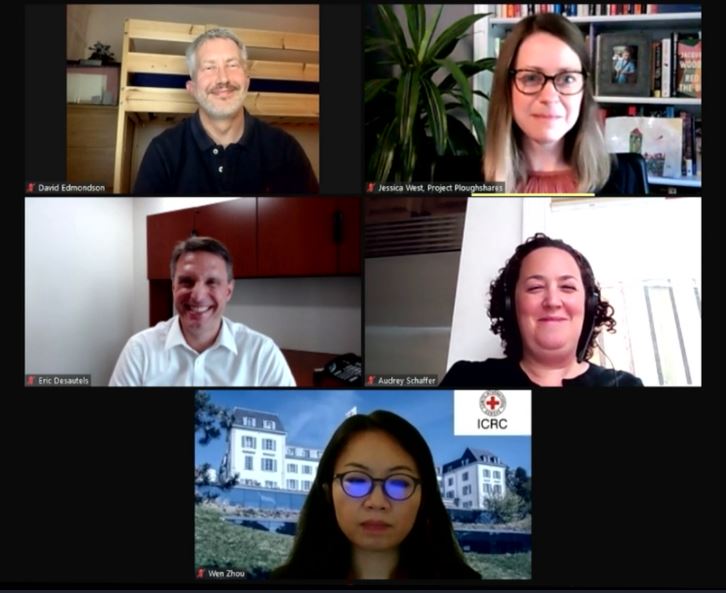 Samson said, "The United Nations resolution, passed with overwhelming support, generated momentum for additional discussions on the formulation of space conduct rules. The focus on behavior and not just technology encourages both future communication and transparency among the member states."
Edmondson emphasized, "The strategic goal of the United Kingdom is to avoid mistake and escalation from hostile activities in space systems, which might lead to conflict. As the next stage of this process, the United Kingdom is preparing a United Nations resolution to establish an open-ended working group. The group would establish a common understanding of the problem, reach an agreement on threatening actions in space, and begin writing behavioral guidelines to lessen the likelihood of space conflict. States will self-regulate their acts if they believe they are internationally unacceptable and likely to result in conflict. The US and the EU both endorse the draft resolution."
West noted, "The development of that process is just as crucial as any guidelines or conventions that arise. Receiving a broader, binding worldwide agreement on area sustainability is a long-term challenge. I see this as the beginning of a long engagement on the global stage on a subject matter we sidelined and overlooked for a long time. This requires an inclusive course of action and necessitates a method to nurture and extend like-mindedness among many distinct actors."
Schaffer stated "While there is a recognition of the potential problems, the political will for treaties are more difficult to produce. Countries are encouraged to submit their opinions on the present and prospective hazards and security concerns to space systems and come to a consensus for norms, regulations, and principles of appropriate behavior for safe space activities. What the specific remedy should really be is less clear."
Desautels added, "This is the first time that the U.S. government has put forward a substantial explanation of our opinions of liable national security behavior in space. Strategic-level concepts for space behaviors may serve as a foundation for future study. Norms can help to limit the risk of misunderstandings and miscalculations between national security satellites functioning in space. Furthermore, negotiating a legally enforceable arms control deal would be more time-consuming, and verification would be difficult."
Zhou concluded, "Applying international humanitarian law to outer space is vital because armed conflict in outer space would have devastating consequences for all. It is essential to clarify applicable rules to prevent conflict, and to identify which issues require policy intervention."
Invited Talk: AFRL Support to Space S&T
Dr. Kelly D. Hammett, Director, Directed Energy Directorate, Deputy Technology Executive Officer for Space Science and Technology, AFRL gave this presentation on AFRL, which he expressed as "One Lab supporting Two Services." Its science and technology ecosystem is expansive, constantly evolving with innovative ideas coming from many partnerships to enhance space capabilities.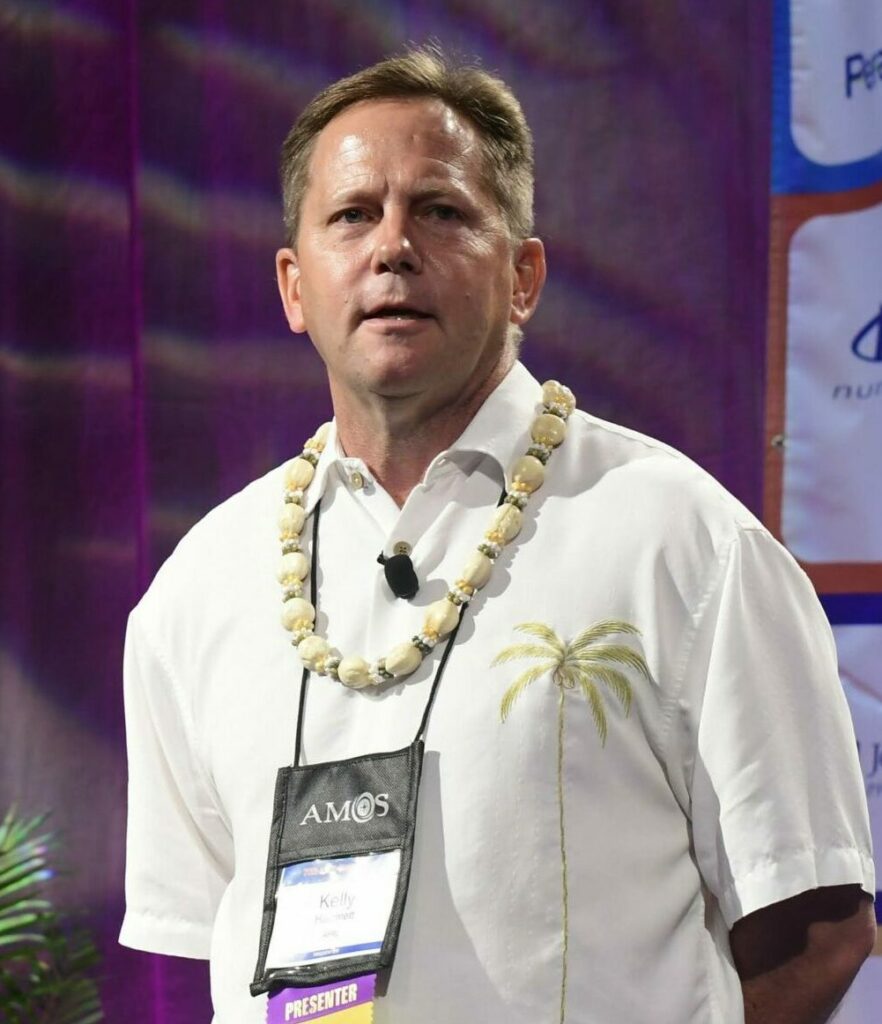 Dr. Hammett said, "AFRL is the primary scientific research and development center for the Department of the Air Force. AFRL plays an integral role in leading the discovery, development and integration of affordable warfighting technologies for our air, space, and cyberspace force. We champion advanced discovery by providing a diverse portfolio of science and technology ranging from fundamental to advanced research and technology development."
Hammett added, "AFRL has been churning out innovative technologies for space application for quite some time. From the dawn of the Aviation Age, we have been a world-class research and development facility for the Air Force and now the Space Force. AMOS is part of that vision. It helps bring us together for innovation and collaboration, moving the technology forward and solving our challenges. Maui is important to AFRL and the Space Force. It is an incredible site with the best daylight seeing conditions in the world. Currently, this sight is bringing together scientists, engineers, and creative thinkers with new technologies and innovation that we can immediately test and move to operational status."
Panel: Space Research Opportunities with the U.S. Government/Military
Geoff P. Andersen, Deputy Chief Scientist, U.S. Space Force moderated this panel which he kicked off by saying, "The U.S. government, specifically the military, offers opportunities to further careers. It is important to know what organizations do, their priorities, how they work together, and who to contact for a specific field of interest."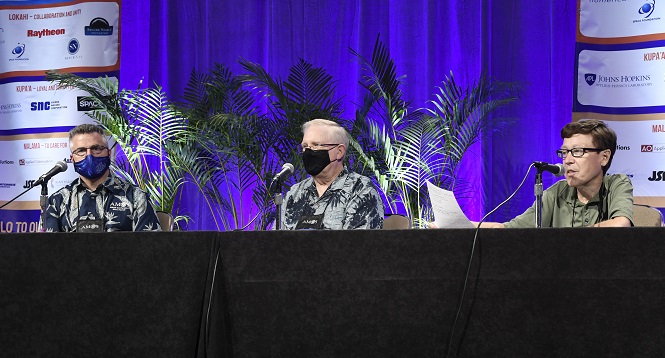 Each of the panelists offered a summary statement:
Thomas W. Cooley, Chief Scientist, Space Vehicles Directorate, AFRL
"The AFRL Space Vehicles Directorate leads the nation in space supremacy research and development. Their mission, to lead, discover, develop and deliver science, technology and innovation to warfighters, is to dominate in time, space and complexity across all operating domains. There are numerous program opportunities available within AFRL.
"The Directorate consists of an integrated team of military, civilian and on-site contractor personnel. AFRL develops and transitions innovative high-payoff space technologies supporting the warfighter, while leveraging commercial, civil and other government space capabilities to ensure America's advantage. Our capabilities and areas of expertise support intelligence, surveillance and reconnaissance, defensive space control, SSA, and all areas of small-satellite development.
"The Directorate provides substantial technical and educational outreach programs for students, such as the Space Scholars and the University Nanosatellite Program. The AFRL Scholar Internship opportunities are offered at several locations across the U.S. The program offers stipend-paid internships to high school students. Select locations also offer internships to university students and post-graduates working with full-time AFRL scientists and engineers on cutting-edge research. Additionally, the Air Force Office of Small Business Programs utilizes the DoD Small Business Technology Transfer (STTR) programs to harness the talents of our nation's small technology companies, in addition to Cooperative Research and Development Agreements."
Lindsay Millard, Principal Director for Space, Office of the Under Secretary of Defense for Research and Engineering
"The DoD provides research and engineering efforts needed to assure space capabilities and maintain competitive advantage in the space domain. New DoD groups are being formed whose job is to coordinate all efforts related to small satellites across all organizations under its purview. Hundreds of new programs and opportunities across the space enterprise, including STEM programs relative to space technology, are beginning within this office."
Joel Mozer, Chief Scientist, United States Space Force
"Space Force is interested in any and all things related to science, technology, research and development that supports our space warfighters. Fairly new, we are trying to anticipate what is coming in the emerging space-based economy. Space Force leaders make it clear that the role of the military space branch is to defend U.S. assets in space and provide satellite-based services to armed forces and allies.
"The Space Force wants to lean on consortiums to rapidly acquire technology from the commercial space industry. The Space Force is also looking to speed up technology acquisitions by opening its contracts to consortiums of vetted companies that can bid on proposals and other transaction agreement (OTA) contracts. We have to have an increasingly long-term perspective on innovation which will rely on partnerships with industry and universities to constantly improve space technology over the years to come."
William P. Roach, Chief Scientist, Air Force Office of Scientific Research (AFOSR)
"We discover, shape, and champion bold, high-risk, high-reward basic research to profoundly impact the U.S. Air Force and Space Force. AFOSR comprises basic research supported by the Human Performance and Biophysics Programs. This collaborative activity directly supports the needs of the US Air Force and DoD, and includes multidisciplinary efforts in applied mathematics, physics, chemistry, biology and engineering. As a part of the AFRL, AFOSR's technical experts foster and fund research within AFRL, universities, and industry laboratories to ensure the transition of research results to support Air Force and Space Force needs. To accomplish this task, AFOSR solicits proposals for research through various broad agency announcements as well as various other programs.
"We are excited to welcome back former Maui resident Dr. Stacie Williams as the first AFOSR Space Science Architect. Dr. Williams brings much expertise to the table from both the operations and research worlds. Her position began with the formation of the Space Force to ensure that our investment in basic research is meeting future technology needs. Dr. Williams will assist with international collaborations and academia to attain more information about sensors for space surveillance networking and awareness."
Donald A. Shiffler, Jr., Chief Scientist, Directed Energy Directorate, AFRL
"AFRL plays an integral role in leading the discovery, development, and integration of affordable warfighting technologies for air, space, and cyberspace force. Space Force is a pivot in space research for our country: One Lab supporting Two Services. We provide a diverse portfolio of science and technology ranging from fundamental to advanced research and technology development. AFRL recently launched a two-step research opportunity to work with multiple partners on directed-energy experiments. There are numerous state-of-the-art research laboratories and testing facilities including Starfire Optical Range, U.S. Army's White Sands Missile Range, and the Air Force Maui Optical and Supercomputing site in Hawaii. Additionally, AFRL will distribute $10 million in Small Business Innovation Research (SBIR) funds. We are looking for transformational, innovative ideas and expect to receive applications from small businesses across the nation. We also highly support the AFRL Scholars Program."
Ezinne Uzo-Okoro, Assistant Director for Space Policy, The White House Office of Science and Technology Policy(OSTP)
"I work within the National Space Council and the National Security Council regarding space policy issues, orbital debris, characterization of modeling, tracking and mitigation. The mission of OSTP is to advise the President on the effects of science and technology on national and international space challenges. OSTP leads efforts and working groups across the federal government to develop and implement sound SSA, orbital debris and technology policies. We bring together the brightest minds across academia, space industry, and government. It is critical to economic prosperity and national security to prioritize needs, interests, and aspirations to ensure the U.S. is the world leader in space technologies and industries of the future."
In Closing
Many individuals were interviewed during and after the conference, and offered their thoughts:
Paul Kervin, AMOS Conference Chair, retired AFRL, recalled, "I started the AMOS Conference more than 20 years ago and am amazed at its growth and ongoing importance to the space industry. It is remarkable what can happen at AMOS through networking and discussing career opportunities. The MEDB teamed worked tirelessly to put on an incredible conference!"
Brian Weeden, Secure World Foundation, said, "AMOS brings together deep technical perspectives with a broader policy perspective on a wide range of issues that are critical to how we function in space. Over the last decade, we have seen a growing international component at AMOS that reflects the growing global nature of space."
Former Maui resident Stacie Williams, U.S. Space Force, noted, "One of the things I love about AMOS is the mix. We have industry, government, academia, international researchers and policy makers brainstorming new ideas and making things happen. At AMOS, we identify new research that can be transitioned to communicate what needs we have, and also, how the academics can help industry address their challenges."
C. Channing Chow II, said, "The AMOS Conference brings together a truly unique juxtaposition of academia, industry, and government working collaboratively towards space safety, security, and exploration. Every year AMOS provides the opportunity to share innovative concepts, challenge stagnant norms, and showcase the latest advances in research and development, all from the grand stage of Maui."
Islam Hussein, Trusted Space, Inc., stated, "AMOS is different than any other conference because it focuses on multi areas in the space industry and brings together the best minds in the world. Being back in person this year is wonderful. It is a needed experience for this caliber of subject."
Diane Howard, Sur l'espace, observed, "AMOS is unique because it integrates with so many of the cultural heritages here on Maui. The conference brings a stewardship element and awareness of the need to work interdependently. While its roots are with the military, commercial and policy aspects are also getting acknowledged. As the community comes together, ideas begin to evolve and are implemented. MEDB is an incredible team that knows how to welcome participants and put on a safe event against all odds."
Darren McKnight, LeoLabs, noted, "For LeoLabs, AMOS represents the opportunity to network and collaborate with space operators, technology providers, policymakers, and government agencies. This venue is uniquely focused on cooperative technical engagements that accelerates SSA and SDA community advancements."
Jerry Krassner, Space Development Agency, pointed out, "AMOS is a big draw because it represents a cross-section of the community, all in one place, at one time, across the space industry. Filled with side meetings and appointments, AMOS provides opportunities and follow-ups to stay current. With more launches than ever, exploration and commercial industry are exploding, and international participation is pushing the whole space community forward. The Lunar Gateway and the cislunar environment, my field of expertise, bring us to the cusp of a major expansion of cislunar activities beyond the GEO region, all being discussed at AMOS."
Mark Skinner, Aerospace Corporation, commented "I have been coming to AMOS since its beginning. It has grown with more technical and policy discussions and more content and international participation than ever. Connections are key at AMOS."
T.S. Kelso, Analytical Graphics, Inc., retired, noted, "AMOS is by far the best conference on SSA, STM, and related topics. It is evident with the growing attendance, not only with the U.S. military, industry, and academia, but international participants as well, that AMOS is the place to be. This year's forum presented high quality technical content during all the sessions."
Matt Wilkins, L3Harris, stated, "AMOS offers the best networking, so vital in our industry. Having everyone in one location to have meetings and communicate ideas and concepts across specialized fields is something you just do not find at other conferences. The intersection of industry, academia, and government allows us to come together to discuss different points of view. Incredible achievements are forged at this conference. It is truly a meeting of the minds!"
Di Wu, University of California, San Diego, noted, "AMOS, with its impressive technical presentations in leading research and engineering aspects of SSA, STM, and SDA, is vital to cutting-edge research. Additionally, the relaxing and open vibe throughout the conference makes conversations and further discussions with other participants a natural and spontaneous follow-up."
Wes Faber, L3Harris, concluded, "With a herculean effort, MEDB and the AMOS Conference organizers created a phenomenal experience for both in-person and virtual conference attendees. Given that it was the first ever AMOS that implemented a hybrid format, it was clear that MEDB thought out every detail and were well prepared for all the challenges a hybrid format presents. The in-person technical short courses went very well and it was great to be in the room with all the attendees in a safe, well-kept environment."
Aloha and A Hui Hou.
AMOS is presented by MEDB, a 501(c)(3) not-for-profit corporation established in 1982 with a mission to diversify Maui County's economy, building pathways to innovation, jobs and opportunity for our residents. Through partnerships with the public and private sector, MEDB undertakes projects that assists growth industries with navigating and thriving in our county, educates and trains residents for new careers, and engages our community in forums that determine future economic directions.