An exciting line-up of keynote speakers are scheduled to open each day of the 23rd AMOS (Advanced Maui Optical and Space Surveillance Technologies) Conference setting up an engaging three-day program with leading-edge technical presentations selected from over 260 submissions. Presented by Maui Economic Development Board (MEDB), the hybrid conference to be held on Maui, September 27-30, 2022 will include livestreaming of all presentations.
The opening keynote will be presented by General John W. "Jay" Raymond, Chief of Space Operations, US Space Force. As Chief, General Raymond serves as the senior uniformed Space Force officer responsible for the organization, training and equipping of all organic and assigned space forces serving in the United States and overseas. As members of the Joint Chiefs of Staff, the Chief of Space Operations and other service chiefs function as military advisers to the Secretary of Defense, National Security Council, and the President.
Gen. Raymond was commissioned through the ROTC program at Clemson University in 1984. He has commanded at squadron, group, wing, numbered air force, Major Command and Combatant Command levels. Notable staff assignments include the Director of Plans and Policy (J5), U.S. Strategic Command; and the Deputy Chief of Staff for Operations, Headquarters U.S. Air Force.
Gen. Raymond deployed to Southwest Asia as Director of Space Forces in support of operations Enduring Freedom and Iraqi Freedom. Prior to leading establishment of the U.S. Space Force and serving as the first Chief of Space Operations, Gen. Raymond led the re-establishment and commanded U.S. Space Command as the eleventh U.S. combatant command.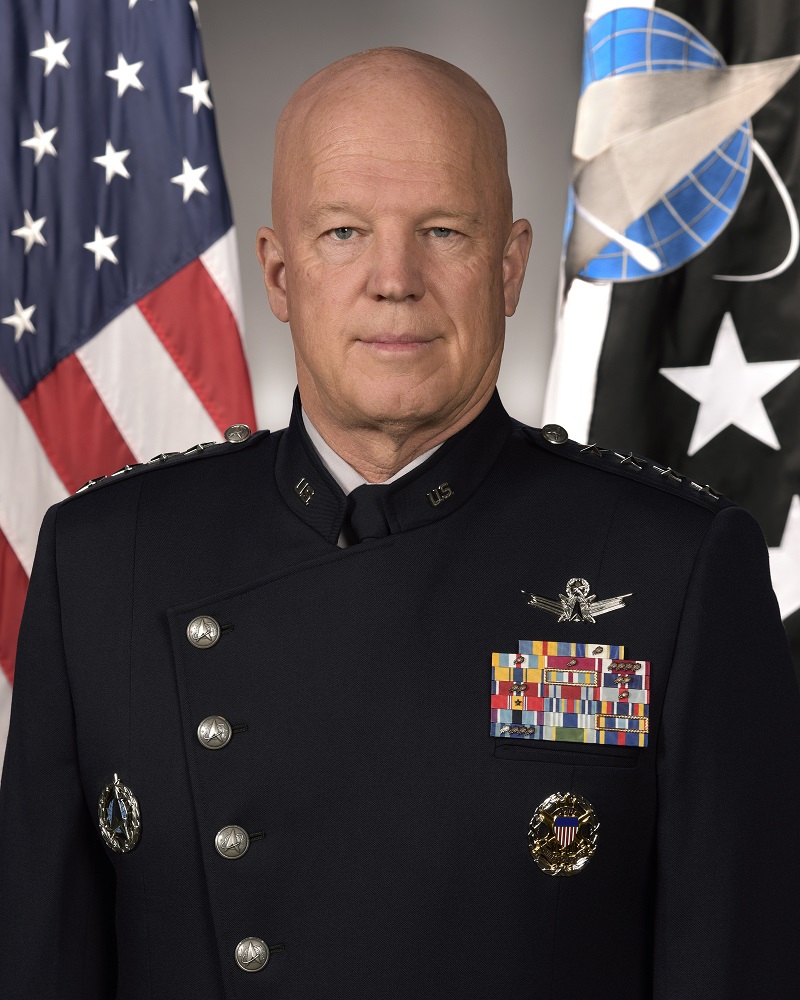 Day two of the conference will start with a keynote presentation by Ezinne Uzo-Okoro, Assistant Director for Space Policy, White House Office of Science and Technology Policy (OSTP.) Uzo-Okoro's portfolio includes Orbital Debris, In-space Servicing, Assembly, and Manufacturing (ISAM), Earth Observations, Space Weather, Aeronautics, and Planetary Protection. In 17 years at NASA, she contributed to over 60 missions and programs – as an engineer, technical expert, manager and executive – in earth observations, planetary science, heliophysics, astrophysics, human exploration, and space communications, which represent $9.2B in total program value.
Her presentation will include OSTP announcements about their year-long whole-of-nation approach to mitigating, tracking, and remediating debris.
The keynote speaker for Friday is Richard DalBello, the new Director of NOAA's Office of Space Commerce (OSC), recently appointed by Secretary of Commerce Gina Raimondo. DalBello has more than 30 years of experience in the space industry and was most recently vice president of Government Affairs at GXO, Inc., a space consulting firm. He was previously vice president of Business Development and Government Affairs for Virgin Galactic and served as the director of Space and Aeronautics, in the White House Office of Science and Technology Policy (OSTP) from 2013 to 2015. He has also worked as vice president of Government Affairs for Intelsat General and served as president of the Satellite Industry Association (SIA).
OSC's key mission is to foster the conditions for the economic growth and technological advancement of the U.S. commercial space industry, issuing, enforcing, and maintaining operating licenses for private remote sensing space systems. OSC is also responsible for modernizing and managing the U.S. systems for space situational awareness.
"The increasing interest in space domain awareness and space traffic management maintains the relevance of the AMOS Conference drawing attention and participation of the highest caliber to Maui in September," said Sandy Ryan, Conference Director with host, MEDB. "Our three keynotes will provide different perspectives – military, government and commercial – nicely setting the stage for the space policy discussions that follow each day."
SSA Policy Forum
Each of the day's keynotes will be followed by the SSA Policy Forum, coordinated in collaboration with Secure World Foundation that explores international issues related to Space Situational/Domain Awareness in a panel format. It brings together the developers and implementers of SSA capabilities and the architects of SSA policy to interact at a time when the landscape is rapidly changing.
On Day 1 the topic is "Using SSA to Verify Future Space Security Agreements." As the international community strives to negotiate space security agreements, the question arises about how to verify actions on orbit and whether the agreed-to behavior is being followed. SSA can provide a technical foundation for verification; by understanding what SSA can do, states are better placed to negotiate behaviors that can be confirmed by outside observers. This panel will discuss the technical ranges of SSA programs and how they can be applied to verify future space security agreements.
On Day 2, the Policy Forum will consider the question "Is Orbital Carrying Capacity a Useful Metric?" With the increasing deployment of very large satellite constellations, we are seeing a fundamental change in the way we use the space environment – calling into question our understanding of the carrying capacity of specific orbital regimes or regions. There are research efforts underway to define and apply approaches to assessing orbital capacity. This panel will discuss those approaches, and the work needed to understand how orbital capacity can be applied in behavioral and operationally relevant ways to improve the safe and sustainable use of LEO for all operators.
On Day 3 a panel will explore "The European Perspective on Space Traffic Management." While space traffic management has been a hot policy topic for the last several years, the conversation has largely been driven by the perspective from the United States. The European Union recently announced their strategy on STM, which is billed as a different approach than that from the United States. This panel will discuss the current EU thinking on STM, how it is similar or different from that of the United States or other countries, and what the prospects are for cooperation or competition going forward to develop an international STM regime.
For more than 20 years, Maui's AMOS Conference has been the nation's leading technical conference on space situational/domain awareness. Bringing together policymakers and experts from the private sector, academia, the military, and government agencies, the AMOS conference attracts papers and presentations from the world's foremost scientists working in the near-space arena.
In addition to the keynote and policy forums, programming includes technical sessions, invited speakers, exhibit and poster sessions, plus technical short courses on topics ranging from space law and collision avoidance, to space debris and the use of machine learning in SSA. Virtual attendees have access to all presentations as well as online networking and virtual exhibits. See full agenda.
The AMOS conference is preceded by the 5th Annual EMER-GEN® program, a professional development opportunity for students and young professionals enthusiastic about careers in space. The program features mentoring sessions with renowned space specialists, along with professional development sessions designed to enhance the young professionals' effectiveness in a global environment.
Registration is open for both events. Learn more