Celebrating its 20th anniversary, the Advanced Maui Optical and Space Surveillance Technologies Conference (AMOS) brought together a record-breaking 919 participants from 18 countries, the largest attendance in its history. Keynotes and panel discussions focused on improving SSA and STM to enable a rapidly growing commercial space economy while ensuring the safety, security, reliability, and operational sustainability of outer space to benefit all nations. Attendees discussed the critical nature of space safety, and focused on the need to mitigate the risk of collision or interference between satellites. As the situation becomes more urgent and the need for collaborative sustainability grows, governmental space policy, business incentives, and special technical requirements may all be needed to enhance space sustainability.
A flashback through 20 years of AMOS Conference

Congratulations to the 2019 AMOS Award Winners
Best Paper Award
On-Orbit Observations of Conjuncting Space Objects Prior to the Time of Closest Approach
Lauchie Scott, Defence Research and Development Canada
Best Student Paper Award
Optical imaging of faint geosynchronous debris with the Isaac Newton Telescope
James Blake, University of Warwick
Best Presenter Awards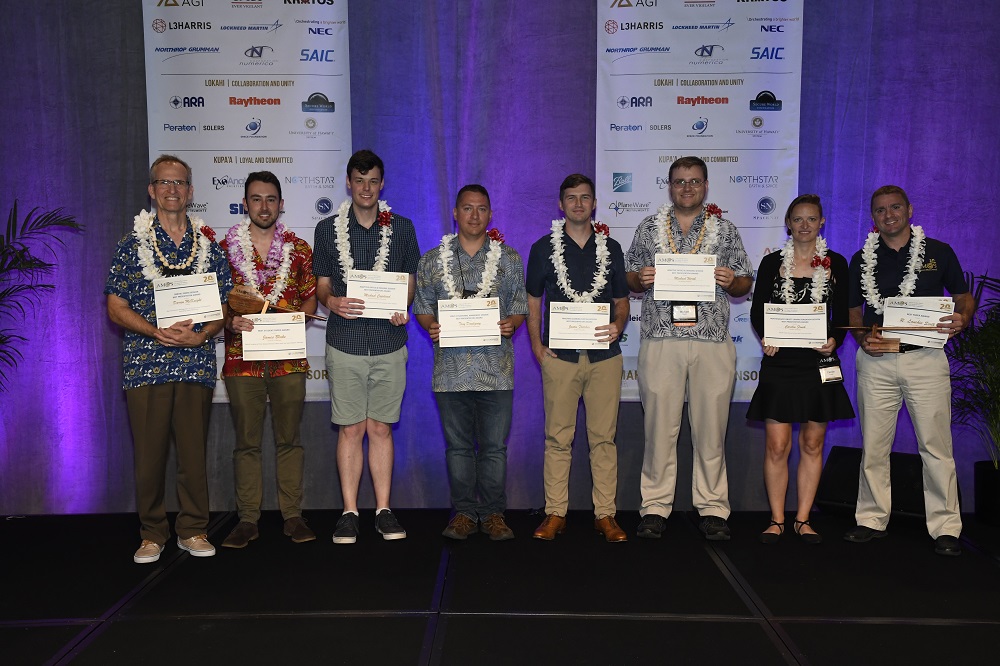 From L to R: Darren McKnight (Best Presenter – Orbital Debris); James Blake (Best Student Paper); Michael Copeland (Best Presenter – Adaptive Optics & Imaging); Troy Dotigney (Best Presenter – SSA); Justin Fletcher (Best Presenter – Machine Learning for SSA Applications); Michael Werth (Best Presenter – Adaptive Optics & Imaging); Carolin Frueh (Best Presenter – Non-Resolved Object Characterization); Lauchie Scott (Best Paper and Best Presenter – Astrodynamics). Missing: Jeakan Thangavelautham (Best Presenter – Space-Based Assets); Grant Thomas (Best Presenter – Optical Systems & Instrumentation)
Featured Presentation
Photos & Videos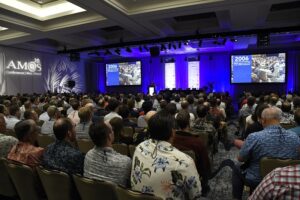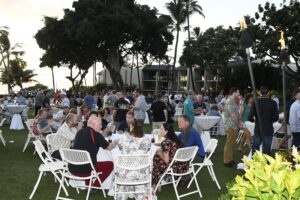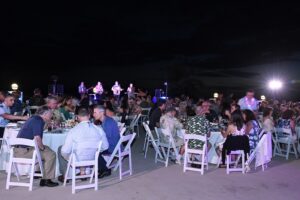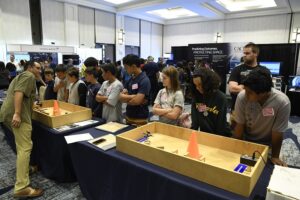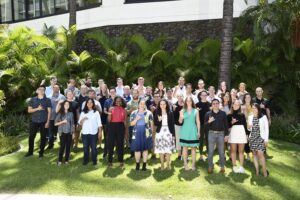 Videos of the Opening, Keynotes and SSA Policy Forums can be viewed at AMOS Conference YouTube channel.

Technical Chairs
Paul Kervin, AFRL/RDSM
Daron Nishimoto, Pacific Defense Solutions – A Centauri Company
Conference Advisors
Col L. Kirk Lewis, Ret., Institute for Defense Analyses
Jeanne Skog, Skog Rasmussen LLC
2019 Session Chairs
Adaptive Optics & Imaging
Mark Ackermann, Sandia National Labs
Sue Lederer, NASA Johnson Space Center
Astrodynamics
Keric Hill, Centauri
Laura Pirovano, University of Surrey
Machine Learning Applications of SSA
Islam Hussein, L3Harris Technologies
Michael Werth, The Boeing Company
Non-Resolved Object Characterization
Heather Cowardin, Jacobs JETS
John Lambert, Cornerstone Defense
Optical Systems & Instrumentation
Greg Cohen, Western Sydney University
Carolin Frueh, Purdue University
Orbital Debris
Darren McKnight, Centauri
Thomas Schildknecht, University of Bern
Space Situational Awareness
Scott Pierce, AFRL/RDSMR
Sergio Restaino, Naval Research Laboratory
Space-Based Assets
Tom Kelecy, L3Harris Technologies
Andrew Nicholas, Naval Research Laboratory
Mahalo to our 2019 Sponsors

Featured Exhibitors
| | |
| --- | --- |
| Advanced Scientific Concepts | Kratos RT Logic |
| AGI | L3 Harris |
| a.i. solutions | LeoLabs |
| ALPAO | Lockheed Martin |
| Applied Optimization | NEC |
| Applied Research Associates | Numerica Corporation |
| ASA Astrosysteme | Orbit Logic |
| AstroHaven Enterprises | Planewave Instruments |
| CACI | SAIC |
| Charles River Analytics | Sierra Nevada Corporation |
| EOS Space Systems | Space Environment Research Centre |
| ExoAnalytic Solutions | Tyvak Nano Satellite Systems, Inc. |
| Finger Lakes Instrumentation | University of Hawaii |